You are here Home › Marketing › Alumni Profiles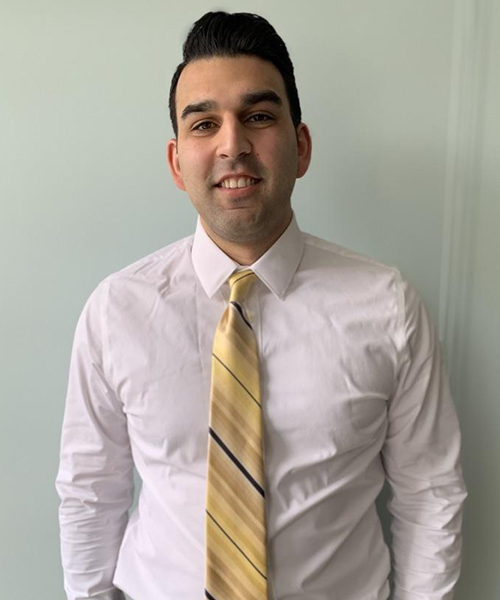 Aquinas offered the life balance that Jacob was searching for in a college. It gave him the opportunity to receive a good education while also playing the sport he loved. Jacob Bedi graduated from Aquinas College in 2017 with a Business Administration with a concentration in Marketing. Aquinas really helped him with communication skills and a lot of real-life business skills as well. Jacob felt right at home when starting work. If he could describe Aquinas in one word, it would be reputable, especially in the business world. Aquinas' professors where invested in his education. He felt the true care and respect that a small campus had to offer. In his sophomore year, Jacob did an internship with Northwestern Mutual Life Insurance Company. This began to show him what insurance companies where all about, and Jacob loved it. He formed a wide network of colleagues that he is still in touch with today. Jacob was also a member of the men's soccer team during his four years at Aquinas. After graduation and before going to his first interview, Jacob utilized the help of Aquinas' Advantage Center to help review his resume. He now works as a financial advisor at New York Life Insurance Company.
---
Dedication, Determination, and The Drive: AQ Alumni takes on the NBA
Ambitious Alumni, Kyle Kwaske, graduated from Aquinas College in 2016 with a degree in Business Administration and Sport Management with a concentration in Marketing. From his start at Aquinas, Kyle was determined to pursue a career in the Sport Industry. In order to stand out to future potential employers, Kyle set a goal to obtain at least five jobs and/or internships in the Sport Industry by the time he graduated. With the help of his natural drive and hard work ethic, he accomplished this goal.
"I would attribute a lot of the blessings I've received from getting out there and doing internships. At the end of the day it's all about experience and who knows who you are."
Kyle's first internship began the summer before his junior year working with the Houston Texans NFL Team. After gaining experience with the Texans, Kyle landed not one, but two internships his junior year at Aquinas. The first internship was with the Grand Rapids Sports Hall of Fame, ending the first semester of his junior year. The second internship was with an NBA minor league system called the Grand Rapids Drive, lasting the entire school year. In between his junior and senior year, he interned at Global Partnerships through the NBA. Kyle continued his involvement with the NBA throughout his senior year, returning to the Grand Rapids Drive, this time working a full time paid internship.
Kyle credits a lot of his recent success to his time working with the Grand Rapids Drive. Through his experience with the Drive, he was able to meet many amazing people, two of which worked for the NBA. Through these connections, Kyle was informed of the NBA Associate Program, the entry level position that leads to working with the NBA post-graduation. After applying and undergoing rigorous interviewing the winter of his senior year, Kyle earned a spot in the NBA Associate Program. With this success, he moved to New York City, New York in August 2016 and started working in his current position September of that same year.
The NBA Associate Program position is a two-year long job in which participants rotate four times in six-month periods working in various departments within the NBA. Through this program, Kyle has been able to meet and work with many great people, immensely expanding his network. He is nearing the end of his two-year duration in the Associate Program and will be permanently placed into a department September of 2018. Once in his new position, Kyle is sure to continue cultivating the skills he has gained from his past internships, thereby further growing in the success he has had working with the NBA.