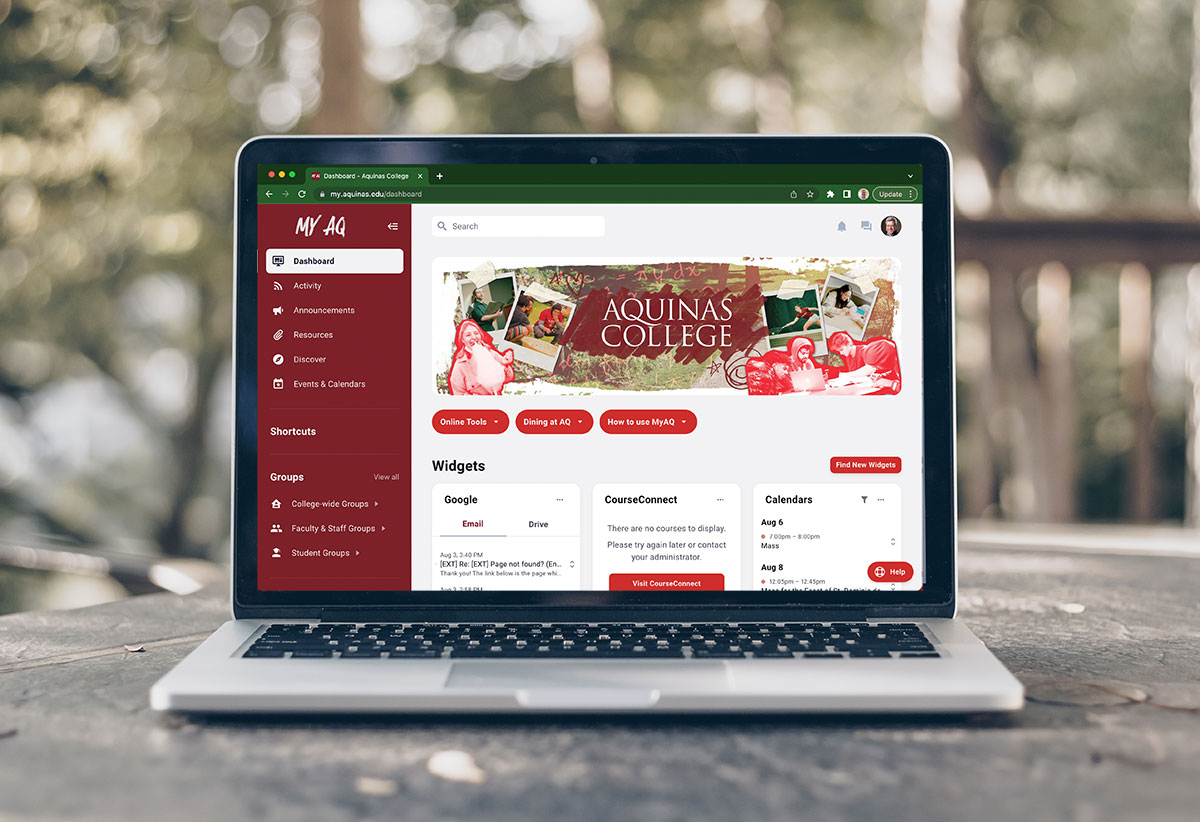 MyAQ is your personalized hub for all things at Aquinas College. Whether you are a student, faculty, or staff, you'll find content and tools that are relevant to you.
You can customize MyAQ in many, many ways so it suits your needs. Plus, it's directly connected to a wide range of Aquinas online services.
MyAQ replaces both Acorn and Engage, separate platforms that were initially made for employees and students.
You can view MyAQ on your computer, tablet, and cell phone by using your favorite browser and going to https://my.aquinas.edu. Or, you can download the app from Google Play or App Store by searching for "MyAQ".
MyAQ Video Tour Ask a Question Get Help with MyAQ
---
My AQ Features
Groups
Students, faculty, and staff all belong to Groups. They are dynamic areas where you can interact, create events, and share information.
For employees, examples are All Employees, Faculty Assembly, and Advancing Aquinas Taskforce. Students have many more groups such as All Students, Alpha Chi Iota, and Multicultural Club.
Pages
Pages usually represent actual offices and departments across campus such as Business Office, Human Resources, and Copy Center.
Pages are great places to find information on how to get things done.
Tools
Tools represent a collection of websites you commonly use such as Google Suite, Course Connect, Job Postings, and Self Service.
Both students and employees will see a list of curated items that apply to them.
Widgets
On the dashboard of MyAQ you'll find a collection of widgets that are pre-configured. You can customize many of them -- move them around, expand them, even hide them.
Events & Calendars
There are two types of calendar events -- those made by and for Groups, and those with a broader audience like Music, Athletics, Campus Ministry, even local events. Read more about how to create events.
Announcements
Announcements is where to read important and timely messages meant for all students, faculty, and staff on campus. These are posted by AQ Admins.
Resources
Resources on MyAQ is a good place to store documents, forms, and PDFs that are commonly shared by offices across Aquinas. Pages on MyAQ can link to documents stored in Resources.
Also, super convenient ... your Google Drive connects to Resources.
Your Profile
Click your profile picture to share information about yourself, set your phone number, upload your favorite picture, and create something that's uniquely you!
Here's where to adjust your privacy settings and notification preferences.
Messages
Chat with one person or many people from within MyAQ. Chat works on a wide variety of devices and platforms.
---
ASK A QUESTION ABOUT MYAQ