May 2022 - May 2023
Vaccine Mandates and COVID-19: An Analysis on Political Polarization of The Pandemic
Emily Green
This research was conducted in an attempt to gain an understanding of the polarization brought about by the pandemic/recent events and attempt to understand factors that have gone into that. Data from this research provides an look into personal decision making as it pertains to the pandemic, and provides implications for future political and governmental actions.
Dissecting the polarization that has been put at the forefront of this pandemic could provide valuable insight into the citizens' point of view in regards to policy and prevention measures. A survey of ten questions given in an interview style meeting was used to collect responses. This study looks at correlations between perceptions of the pandemic/vaccine mandates and political affiliations in an attempt to dissect the polarization brought about from the pandemic. The data collected implies that it is much more complex than simply assigned preconceptions from either party.
Faculty Advisor: Dr. Daniel Wagner
Funded by: None/Self-funded
---
Using Industry Insights to Create a Project-Based Approach to Data Analytics
Ronnie McMillan
We will conduct a series of interviews with data science practitioners, specifically those who regularly use the statistical programming language R, to gain insights about the skills that are considered valuable in the professional data analytics community. We will use these insights to rework the course MS 282 (Applied Statistics with R), which is a foundational course in the Data Analytics major, making it into a completely project-based experience. This revamping will consist of writing and testing a series of projects based on industry-provided datasets.
Faculty Advisor: Dr. Joe Fox
Funded by: Aquinas College Summer Scholars Program
---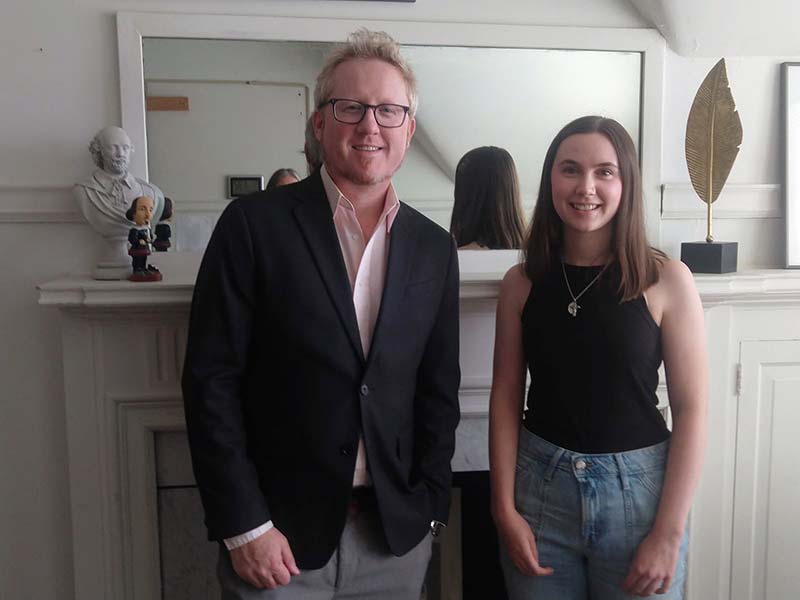 Nature, Philosophy, and Latin in St. Thomas Aquinas' De Principiis Naturae
Margo Ardelean
The primary goal of this project is twofold. First, the student will acquire basic understanding and habits of Latin forms, grammar, syntax, and vocabulary necessary for producing philosophical translations of the work of St. Thomas Aquinas. Second, the student and faculty mentor will collaborate to produce a philosophical translation of an important selection of text from St. Thomas Aquinas' De principiis naturae, continuing the tradition of philosophically engaging the Angelic Doctor in his own language of composition. We will complete a translation of De principiis naturae by translating chapters 3-6 (it is six chapters, total). This project is a continuation of previous studies done on the first and second chapters of the De principiis naturae. This work, in turn, constitutes the second stage of a larger project to publish a new translation of the De principiis naturae as a whole, with philosophical commentary, for use by scholars and students.

Faculty Advisor: Dr. Daniel Wagner
Funded by: Aquinas College Summer Scholars Program
---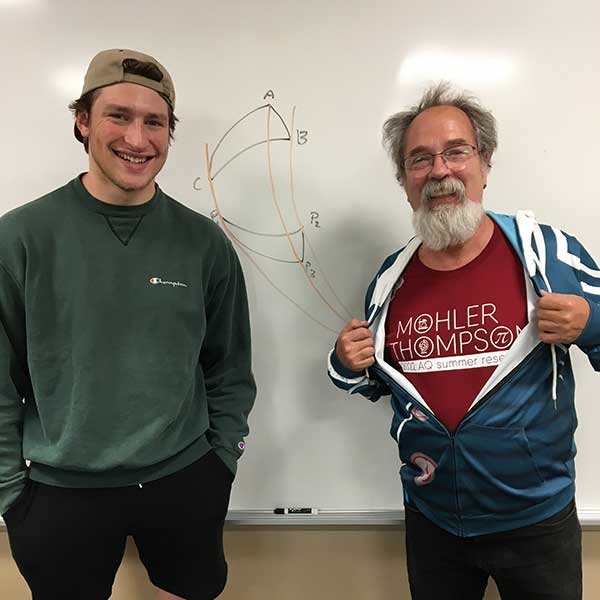 A Plethora of Wallace-Simson Lines
Jarrad Epkey
The Wallace-Simson theorem in elliptic geometry is completely different from the Euclidean version, which was completely defined in 1797. Building on previous summer work, we are finding many projection points for Wallace-Simson lines. We can prove some are non-constructible. We hope to find ways to count and construct projection points and to see how these projection points and Wallace-Simson lines interact with other properties of elliptic triangles.
Faculty Advisor: Dr. Michael McDaniel
Funded by: Mohler-Thompson Summer Research Grant
---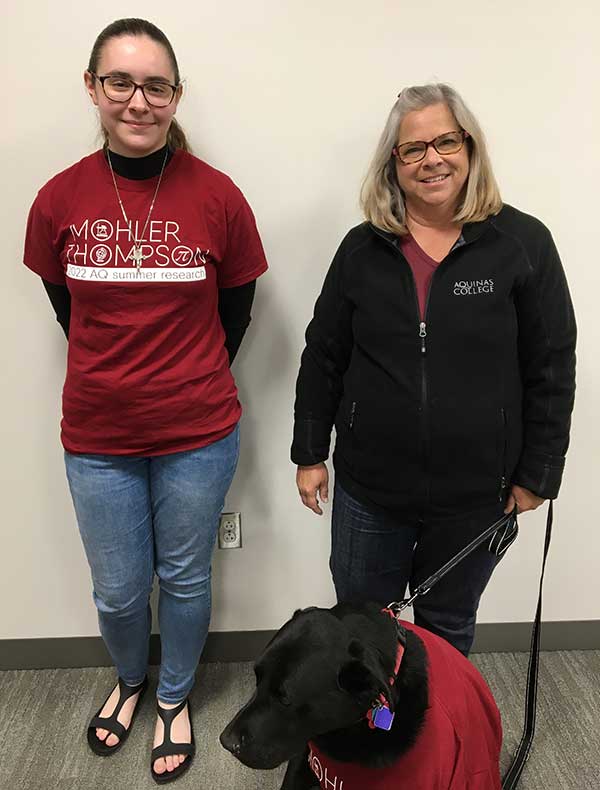 Evaluating Secondary Mathematics Teacher Preparation at Aquinas College
Nicole Gregory
The project will evaluate what it means to mesh content knowledge and pedagogical content knowledge together within a traditional mathematics major at Aquinas College. To thoroughly prepare future teachers, we aim to keep in mind the mathematical content (general mathematics program), the pedagogical content (courses within the School of Education), and how to develop touch-points for pedagogical content knowledge. All experiences need to blend together to fully prepare future teachers for the Michigan Test for Teacher Certification (MTTC) and overall readiness to teach in the classroom. Through the lens of how to best prepare future teachers for their classrooms, this project will design teacher-preparation specific language for traditional math major course descriptions and syllabi, design multiple experiential learning opportunities in clinical settings, and design opportunities for assessment of key skills throughout the program.
Faculty Advisor: Dr. Shari McCarty
Funded by: Mohler-Thompson Summer Research Grant
---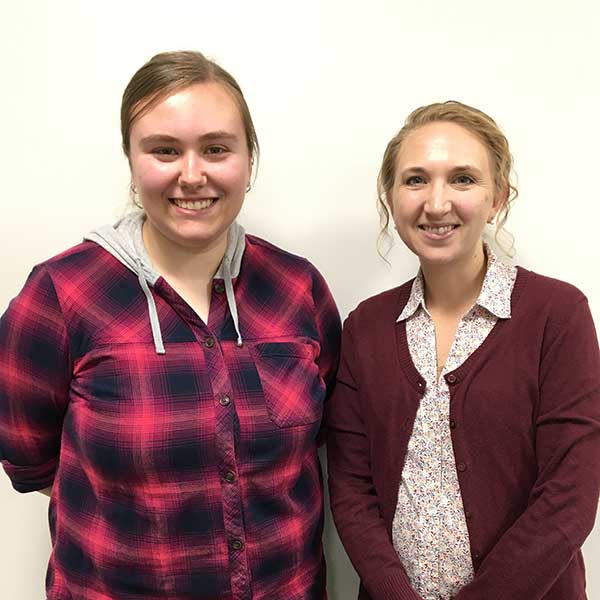 Analysis of Macrophage Cell Death in Response to Diverse Group B Streptococcus Isolates
Michelle Thompson
Group B Streptococcus (GBS) is a leading cause of preterm birth, stillbirth, and neonatal sepsis and meningitis worldwide [1–3]. It is a common resident of the genitourinary tract in approximately 40% of pregnant women and is a risk factor for preterm birth and neonatal disease [1–3]. In order to develop effective treatment and diagnostic strategies, there is a critical need to understand how GBS interacts with human tissues to induce inflammation, invade the extraplacental membranes, and harm the fetus or newborn. Macrophages are a key immune system cell type that play critical roles at the maternal-fetal interface during pregnancy as well as in the immune system of newborn infants. Our lab and others have previously identified differences in macrophage cell death in response to different GBS strains of varying virulence [4-5]. A key goal of this project will be to explore the type of cell death that is being induced in these macrophages following GBS infection with these diverse strains and to explore some of the macrophage signaling pathways that regulate these responses.
Faculty Advisor: Dr. Rebecca Flaherty
Funded by: Mohler-Thompson Summer Research Grant
---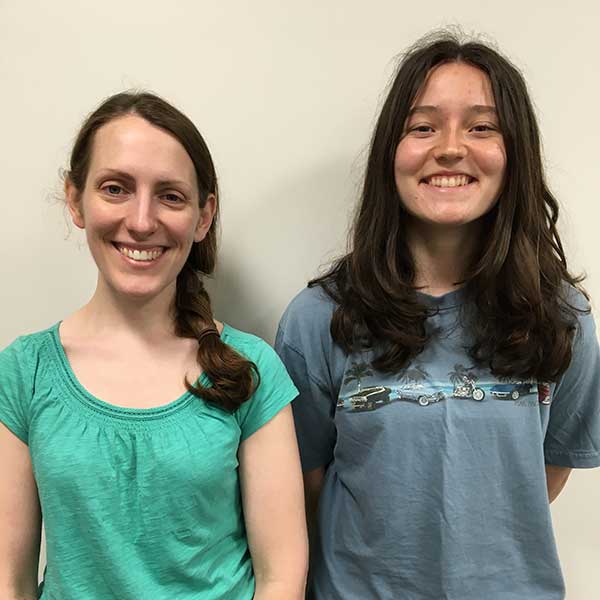 Influence of pollen aperture number on germination and pollen tube length in Thalictrum dasycarpum, an in vivo study with fluorescence microscopy
SydneyShenk
We will be continuing a line of past research to assess the influence of pollen aperture number on germination likelihood and timing and pollen tube length in Thalictrum dasycarpum, a wind-pollinated species. Using plants cultivated within the Aquinas College greenhouse, we plan to develop methods for fluorescence microscopy to observe pollen germination in vivo and to optimize our in vitro pollen-germination method for this species. We will also investigate the following parallel questions: What is the influence of stigmatic pollen load on pollen germination rate? How reliable are standard methods in determining actual pollen loads (i.e., how much pollen is lost in processing?)? Given time and methodological success, we will consider the influence of pollen load on the relative success of different pollen aperture morphs.
Faculty Advisor: Dr. Rebecca Penny Humphrey
Funded by: Mohler-Thompson Summer Research Grant
---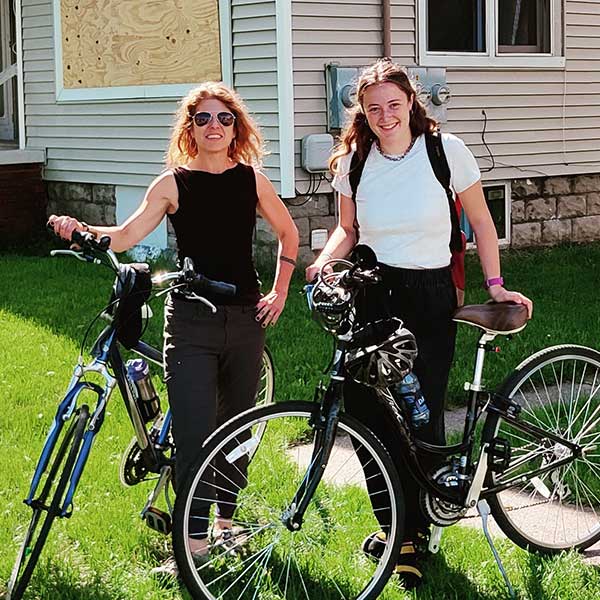 Factors Shaping Trends of Poor(er) Mental Health: An Exploratory Mixed-Methods Study of Grand Rapids
Adeline (Ada) Shaw
Our summer research explores the complex factors that contribute to poor mental health in West Michigan and seeks to understand the implications of the pandemic on mental health and overall well-being. Further, this research seeks to examine the role of the following structural forces on the well-being of residents in Grand Rapids: the local labor market and availability of "good" jobs; the structure of the neighborhood, in particular "other" spaces such as porches and parks; the role of local churches as a place of worship and support; and the role of community and social networks. Our mixed-methods study relies primarily on ethnographic methods.
Faculty Advisor: Dr. Jen Lendrum
Funded by: Aquinas College Summer Scholars Program
---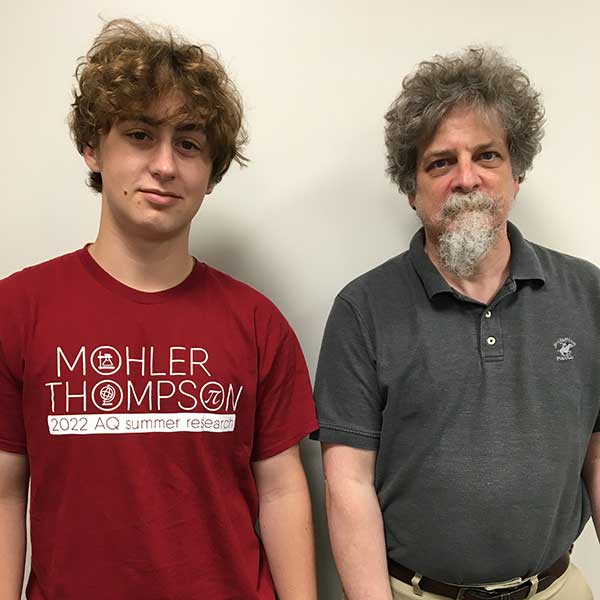 The River Narrative
Nicholas Hegenauer
A sensor array, built around the TI CC1350 and containing a variety of sensors for species of environmental interest, will be constructed and located in Wege Pond. The first type of sensor will be an ion-sensitive electrode which will be glued to capillaries. These polymers hold a placeholder molecule and when the molecule of interest binds the concentration of the measured ion, changes cell potential. An automated sampling device will be constructed to collect samples at specified time intervals. These samples will be studied later by laboratory methods such as atomic absorption spectroscopy or chromatographic methods. Finally, a ligand and metal complex sensor may be developed, when the target molecule binds to the ligand, the complex changes color triggering the sensor.
Faculty Advisor: Dr. Kevin Boyd
Funded by: Mohler-Thompson Summer Research Grant
---
Addressing Climate Change: An Analysis of the Impact of Local Governance
Aidan Raffaele
In the last 30 years, the existential threat of climate change has increasingly drawn the attention and concern of governments at every level. As public awareness of the existence and severity of the issue has grown, so too have the responses of various governments and intergovernmental bodies; the UN has facilitated and encouraged participation in various treaties such as the Kyoto Protocol and the Paris Accords, the Biden administration has pledged a drastic increase in wind energy capacity, and various state governments are offering incentives for options like solar energy. In the last 10 years, however, cities are emerging as perhaps the most effective agent of change in addressing this global issue. Ergo, this research focuses on city governments and their climate change policies and practices. Our plan is to compare and evaluate the success of city-level environmental policies to various factors such as retention of college graduates or voter participation to find if there are certain factors that give cities a predisposition for effective climate policy, and to find potential changes that city governments can make that will in turn lead to more success in this area.
Faculty Advisor: Dr. Roger Durham
Funded by: Aquinas College Summer Scholars Program
---
Analyzing Language Acquisition, Intercultural Competence, and Personal Growth in a Study Abroad Experience
Sydney Wetzel
A semester-long study abroad experience was tracked using a blog to analyze the learner's language proficiency, intercultural competence, and personal growth. The study will analyze specific examples of second language acquisition and intercultural competence from a qualitative perspective. The study will look for examples of Stephen Krashen's Monitor Model of second language acquisition and Claire Kramsch's theories of intercultural competence.
Faculty Advisor: Dr. Susan Hojnacki
Funded by: World Languages and School of Education
---
Ecological Components That Contribute to Stream Quality
Sarah Thong
This project aims to understand the ecological components that contribute to stream quality in the Grand River Watershed, in a partnership with Trout Unlimited. The first objective of this project is to create stage/ discharge rating curves. This will be done by measuring stream discharge and depth/stage at several different streams. With these results, stream discharge can be predicted using just depth/ stage. These results will be helpful regarding Trout Unlimited's mayfly stations. The second objective is to determine the effects of water quality and physical characteristics on habitat quality. These characteristics include vegetation on banks, shade on the stream, bed substrate, and morphology. Results will be compared with the current MiCorps rating of macroinvertebrates. These results will be used by the State of Michigan Environmental Assessment.
Faculty Advisor: Dr. James Rasmussen
Funded by: Mohler-Thompson Summer Research Grant