Business Administration at Aquinas College
Students Attend Intern Speed Dating Event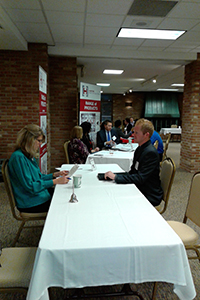 Aquinas College Business students attended an "Intern Speed Dating" event hosted by the West Michigan World Trade Association. Modeled after speed dating, interns were seated on one side of the table, while representatives from companies were seated on the other side. Students had 5-8 minutes with each company representative to get to know one another, discuss their qualifications, and career goals with the hope of getting an internship.
---
Megan Donovan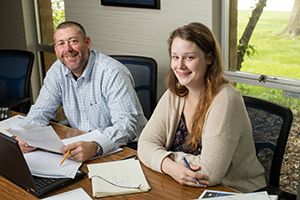 Dual Major: Business Administration and Communication
Internship: Mill Steel
"It was all brand new," said Megan Donovan, '16, of her internship in the manufacturing environment of Mill Steel, a plant that distributes and processes flat-rolled steel products. This dual major in business administration and communication sought an internship that played to her strengths in accounting and business ethics and took a chance on the well-reputed company. After a semester of a successful internship, Donovan now finds herself among the staff at Mill Steel.
"Megan was quite attentive and a good student," said Harwood Hoover, Jr. Ph.D., professor emeritus of business administration. In this introductory course on business ethics, Dr. Hoover utilizes Catholic Social Teaching, specifically John Paul II's Veritatis Splendor to explore the moral teachings of the church. He then applies these teachings to best business practices and invites his students to decide for themselves their own moral compass and form their own ethics code for a fictional company. >Read More
---
For more information of internships, see https://www.aquinas.edu/resources/student-resources/career-services/students/internships