It's your time to Thrive.
UNDERGRADUATE ADMISSIONS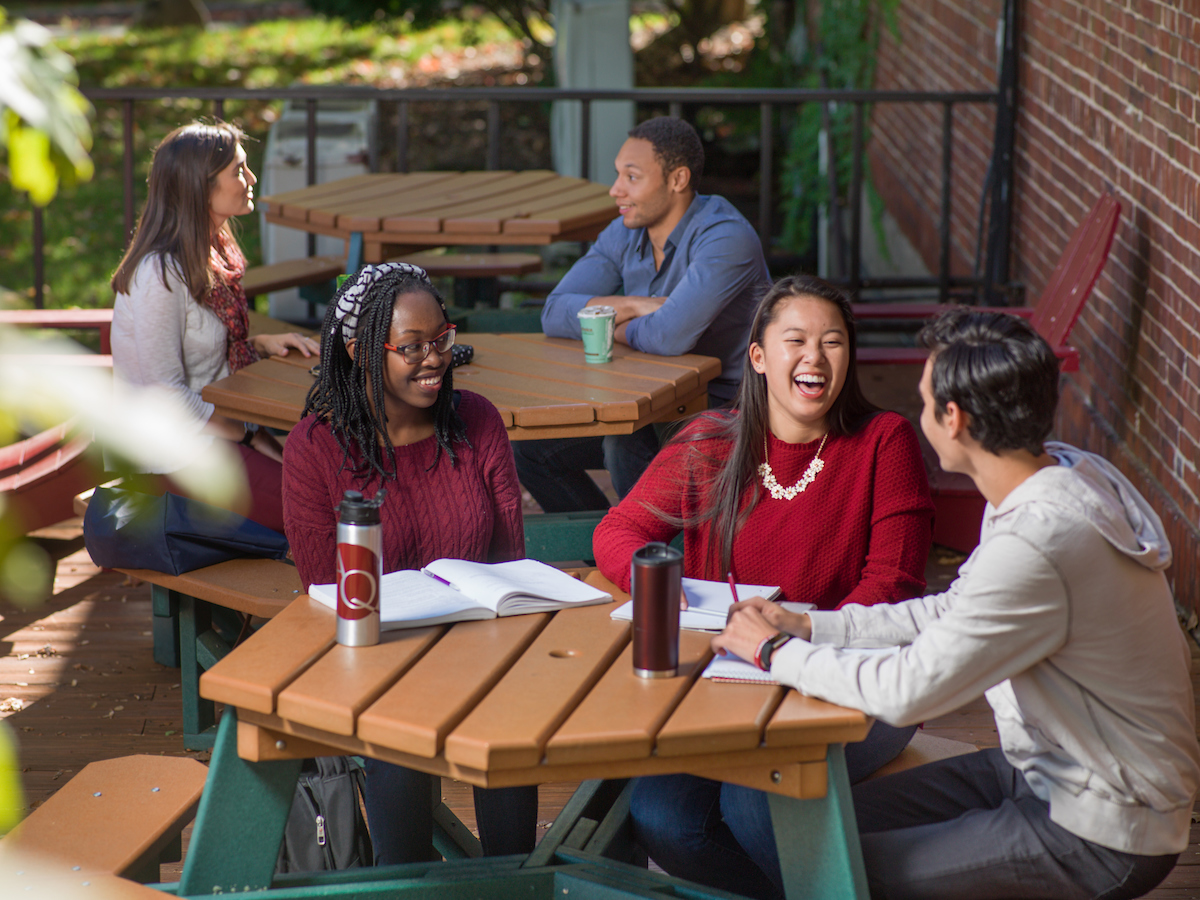 Find Your Path
We understand finding your best-fit college can be challenging. The relationships our students form with faculty and staff are what make an Aquinas education life-changing. If you want to live a life filled not only with achievement but with purpose and meaning, you could be a Saint. Learn more about our application requirements:

---
An Aquinas education creates well-rounded individuals prepared to achieve their goals. As a liberal arts college, we focus not only on great careers, but also on the foundation for a life that never stops pursuing knowledge. Our graduates are critical thinkers, leaders, and focused on service.
Aquinas practices rolling admissions, which means we review applications as they are completed. We pride ourselves on a holistic approach to application review which includes curriculum, extracurricular activities and extenuating circumstances in the admissions decision.
November 1 - Preferred application deadline (rolling admissions).
May 1 - FAFSA deadline. Our school code is 002239.
May 1 - Enrollment Deposit preferred deadline.
Some funds are still available after the May 1 deadline.
---
First-Year Application Requirements
To be considered for admission, first-year applicants must submit the following:
An official high school transcript*
*You must submit a minimum of 15 acceptable academic units from an accredited high school. The distribution of the 15 units should represent a reasonable coverage of the areas usually included in a college preparatory curriculum. In the case of an exceptional student, the requirement of graduation from a secondary school may be waived at the discretion of the Committee on Admissions.
---
Transfer Application Requirements
A transfer student is defined as a student who is traditional age (set by the Federal Government as under the age of 24) and has attended or is attending another college or university. If you do not meet these requirements please consider applying to one of our Continuing Education programs.
Prospective transfer nursing students are subject to additional requirements.
All transfer applicants must submit the following:
Official transcripts, which must come directly from the institution, of all previous college coursework, and

A minimum 2.0 cumulative grade point average in at least 12 credit hours of 100 level or higher.
Aquinas accepts up to 60 semester hours of credit from an accredited community or junior college. If coming from a four-year institution, you may transfer all liberal arts and science credits earned at your previous school(s) and applicable to your degree program.

If you hold an Associate of Arts degree, you will automatically have fulfilled the general education requirements at Aquinas, with the exception of a Theological Foundation course, a Writing Intensive course, and a Senior Capstone. Students may need to complete the competency requirements of English and Math.

If you hold any other Associate's Degree, an official transcript review will determine which credits will still need to be completed.

If transferring from an accredited four-year institution, an official transcript review will determine which credits will be accepted. However, at least 30 semester hours must be earned in residence at Aquinas. Certain departments require at least half of the major course work to be completed at Aquinas.

Prospective transfer students from other colleges are sometimes unable to be admitted if they have been dismissed from or are currently on academic probation at another college. Please speak directly with your admissions counselor to determine whether you may be admitted.
Students from other colleges may be admitted to Aquinas as "guest" students by obtaining a Free Online Michigan Uniform Guest Application from their home institution and submitting it to Aquinas. Students should request an official transcript to be forwarded to their home institution upon completion of the course.
---
International Student Requirements
Aquinas College is home to students from more than 25 countries across the globe. While admission requirements vary from country to country, international students eligible for F-1 foreign student visa processing should submit the following:
Copy of passport ID page,

Official copies of academic records, complete with English translations,

Demonstration of English proficiency, and

Proof of financial support.
Please contact admissions@aquinas.edu for questions about your residency status.
International applicants must demonstrate their English proficiency through one of the following tests:
TOEFL (IbT 79)

IELTS (6.5)

PTE (53)

Duolingo English Test (105)

EIKEN (Pre-1)

ELS 112 Certificate*
Students from countries where English is the native/primary language, or who have been attending an international secondary school for at least two years where the language of instruction is totally in English, are usually exempt from having to show English proficiency.
Verification of proficiency may still be requested if any information indicates there is an English language deficiency. This decision is at the discretion of the Director of Admissions.
*Students can receive an additional scholarship by completing the 112 Level of an approved ELS program prior to attending Aquinas College.
Students must upload proof of financial support through their Student Status page. Students must submit the following:
Parent's Income Statement - This can be a statement issued by their employer, person in charge of company finances, or it can be a government issued tax document with the income amount listed.

Parent's Savings Statement - This bank statement must be recent and should demonstrate that you can cover at least two years towards your educational costs. If this is a checking account, the transaction history must not exceed three months.
All Global Students are required to attend an International Student Orientation which takes place prior to the start of classes. During this time, they will get familiar with the area and will be provided with resources that will prepare them for their studies in the US.
High School Students
The student must send an official copy of academic records to InCred for a Basic High School evaluation. Applicants should allow for 10-15 business days for the evaluation to be completed once a complete file is received by InCred. There is a $95 cost for this evaluation, payable to InCred when request is submitted.
Transfer and Second Bachelor's Students
All international, post-secondary transcripts from a non-U.S. institution must be submitted directly to one of the four approved evaluation services for a detailed, course by course evaluation:
---
Nursing Program Application Requirements
In partnership with Trinity Health Saint Mary's, the University of Detroit Mercy (UDM) offers an accredited, four-year baccalaureate nursing degree at Aquinas College.
To be considered for admission, first-year nursing students must submit the following:
Aquinas College no-fee application

(select nursing as your first choice major)

,

An official high school transcript,

A minimum cumulative GPA of 2.5 overall,

A minimum cumulative GPA of 2.5 within all math and science courses, and

Standardized test scores (SAT/ACT)*.
*Minimum Composite Score 1060 on SAT or 21 on ACT
To be considered for admission, transferring nursing students must submit the following:
Aquinas College no-fee application

(select nursing as your first choice major),

Official transcripts of all previous college coursework,

A minimum cumulative GPA of 3.0 overall, and

A minimum cumulative GPA of 3.0 within all math and science courses.
There are no required prerequisites to transfer into the nursing program. Transfer students are allowed to transfer a maximum of 32 credits into the program and are required to attend the program full time for 4 years. For detailed information please refer to the FAQ's for transfer applicants to the BSN program.
---
Connect with Aquinas Admissions
Contact: Lindsey Hansen, Director of Admissions
Phone: (616) 632-2878 or 1-800-678-9593
E-mail: ljh001@aquinas.edu