Emily Smith Harrison '13, M.S.
ACE Certified Personal Trainer, Group Exercise Instructor and Health Coach
Fitness Director, NASA Langley Research Center, Hampton, VA
Life after Aquinas College: During the summer of 2013 Emily worked a wide variety of fitness jobs in multiple facilities throughout the greater Grand Rapids area. In the fall of 2013 she started working as a assistance track and field coach at a small NCAA division 3 program in Marietta, OH. After a year in Ohio she pursed a graduate assistantship as a track and field coach at Augusta University in Augusta, GA. In the spring of 2016 Emily completed her Masters of Science in Kinesiology Degree from Augusta University and then moved to Atlanta, Ga to work as a program coordinator for Paulding County.
Now: As the Fitness Director of NASA Langley Research Center, Emily overseas the health and fitness programs for over 3,600 employees on the center. She designs, coordinates and implements special events, lunch-and-learns, new member recruitment, wellness education, and collaborate with the Occupational Health Clinic. She has the opportunity to work with a wide variety of very unique individuals.
---
Ali Svendsen, '09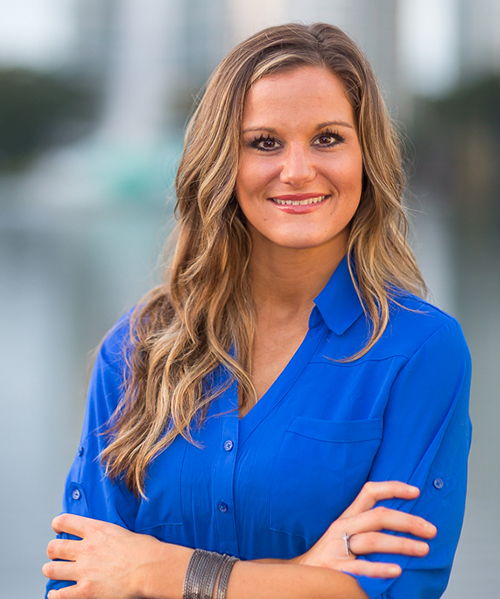 Director of Fitness Services at MVP Sports Clubs, Grand Rapids, MI
Throughout her college years, she worked for MVP Sports Clubs as a Fitness Trainer and Group Fitness Instructor. Upon graduation, she took a position with Team Gazelle. After a few years of customer service and sales experience, she was catapulted into a leadership role as the Group Fitness Team Leader at the RDV Sportsplex and relocated to Orlando, Florida.
While working as the Fitness Team Leader for MVP, she also began working with MOSSA, a national group fitness content provider based out of Atlanta, GA. Her role for MOSSA as a video presenter on educational training videos, as well as a national trainer, included traveling around the country helping instructors learn to teach and coach fitness classes. In 2016, Svendsen was promoted to Director of Fitness Services at MVP Sports Clubs, and is now based out of the corporate office in Grand Rapids, MI.
In 2017, she was recognized as a "Rising Star" for – CSB. Svendsen is passionate about connecting with people, helping others grow as leaders, and above all else, being the ultimate cheerleader and motivating people to move!
Svendsen attributes much of her growth from her time at Aquinas College. "The campus, the professors, the study abroad program in Ireland, and the overall experience at Aquinas helped me grow up and lead me to my passion and understanding how to use that passion for my own success. I will always be grateful for my time at AQ!"
---
Mitch Spelde '13
Fitness manager
Snap Fitness
Carlee Chapman '10
Fitness Team Leader
MVP Sports Clubs
Devin Tarrant '10
Co-Owner & Managing Partner
Applied Fitness Solutions
Jaclyn Braspenninx '07
Fitness Specialist & Healthy IU Manager
National Academy of Sports Medicine - Certified Personal Trainer
IU Health

Audrey VanderKamp '06
Life Coach
Lifetime Fitness

Andrew Finkbeiner '02
Operations Manager
St. Mary's Health Management

Adam Jauregui '02
Group Training Coordinator
Lifetime Fitness

Shandy Longcore '02
Director of Operations
MVP Athletic Club - Rockford

Jason Epplett '99
Director
Spring Lake Community Fitness and Aquatics Center
Trey Kubizna
Home Care Consultant
Residential Home Health