Biology at Aquinas College
---
Adam Liberacki '12: Alumnus Keeps Aquinas Connections Strong at Amway
By: Miranda Burel '17
Published on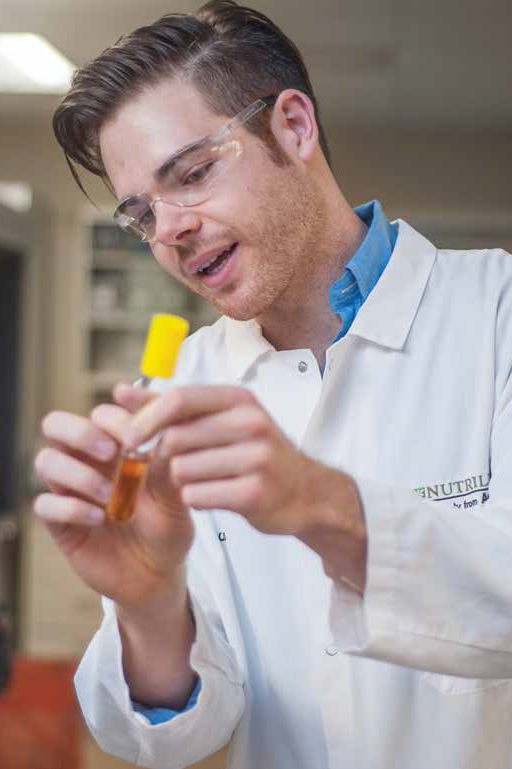 A community constantly changes as people move and grow. A vital part of Aquinas' values, community is about reaching out, working together, and creating something meaningful.
Science has always been a group effort for Adam Liberacki '12. As a child, he would turn up at science fairs toting wild experiments created with the help of his parents, both scientists themselves.
"Inevitably we would showcase some kind of gooey green goop, a functional diorama of the solar system, or in one case a very smelly botany experiment gone wrong," he said.
It is no wonder that Liberacki found Aquinas. Drawn in by the abundant trees on campus, small class sizes and the Dominican pillars, Liberacki knew he would soon call AQ home.
As a freshman, he filled his schedule with as many science classes as possible. Within his biology major, he gravitated to ecology, zoology and botany, and spent two years as the botany lab's teaching assistant. When he wasn't doing schoolwork, his time was riddled with extracurriculars. Liberacki participated in classic science clubs like Tri-Beta (National Biology Honors Society) and the American Chemical Society. But he deems himself "a rogue biology major," having held leadership positions in the AQ Programming Board (AQPB), serving as a barista in the Moose Cafe and welcoming new students as an orientation leader.
Often working with others on projects, Aquinas helped Liberacki cultivate his cooperative personality. "The small class sizes encourage students and professors to work closely together. Everyone gets to know each other on a personal level," he said. "This collaborative spirit is what's helped me to build connections in my career and helped me to succeed."
Liberacki graduated in May 2012 and by July had joined the extensive community of AQ alumni at Amway. Working as a microbiology quality assurance lab technician, Liberacki spent his first year getting the lab and manufacturing facility up and running. Now he is an associate scientist, working to deliver safe, quality products free from any packaging, chemical or microbial defects. His current project is evaluating rapid allergen detection technology for Amway's manufacturing lines. The lab tests for contaminants like E. coli or salmonella in all the raw materials and equipment used, as well as the finished product.
"My job is used to keep people safe in their everyday lives," Liberacki says. "When you are in the store and see something like a gluten-free label, that means that someone like me has confirmed the absence of wheat in that product. We've already put it through rigorous testing to ensure its safety."
Liberacki also participated in Take a Saint to Work Day, organized through the AQAdvantage Center, during which current students job shadow throughout the community.
"I wanted to show students that quality assurance was a good option for the future," he said. "I was also able to tap into the network of AQ alumni who work at Amway to provide a greater experience for the student and showcase various career paths during their visit. It's because of this type of community and willingness to serve others that I love working at Amway and I loved being at Aquinas."
Success is possible when communities support their members. Adam Liberacki found this to be true and continues to nourish a strong community foundation in order to establish connections and create long-lasting change.
---
Matt Flanagan
Published on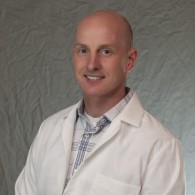 Matt Flanagan graduated from Aquinas College in 1998 with a Bachelors of Science. He chose a dual major in Spanish and biology with a minor in chemistry. After finishing his undergrad Matt attended Michigan State University, College of Osteopathic Medicine where he received a D.O.
He explained that a doctor trained in Osteopathic Medicine will have more varied medical knowledge about procedures and diagnostics.
After medical school, Matt did his first year internship at Sparrow Hospital in Lansing from 2004-2005. Next Matt did an emergency medical residency from 2005-2008 at Spectrum Health Butterworth. Finally, Matt completed a specialization fellowship focusing on emergency ultrasounds from 2011-2012.
Currently Matt works at Spectrum Health as an emergency physician splitting his time between seven of their hospitals. emergency medicine is one of the most difficult and varied fields within healthcare. Despite this, Matt keeps a positive attitude, when asked what he enjoys most about his field he stated, "The challenge, it is a challenging specialty, you need to be well versed in a lot of different medical problems and be comfortable with anything that comes through the door. We help newborns all the way up to 100 year olds."
Emergency physicians must have knowledge about medical problems in all other specialties such as pediatrics, oncology, and cardiology. Alongside the need to be knowledgeable about literally all forms of taught medicine is the technical expertise required for many emergency medical procedures.
Matt listed putting in a chest tube, intubation, and point of care ultrasound in order to make a life threatening diagnosis as just a tiny look at the daunting list of technical skill required for this profession.
Matt is very genuine, with an emotionally intelligent way of speaking that is extremely comforting. He is clearly an excellent doctor and someone who understands the value of hardwork and helping others.
When asked about his time at Aquinas, Matt explained that he had a soft spot for campus ministry.
He especially loved the trips they took such as going to South Manitou Island and service learning trips over spring break. He described the formation of "The Fam" his friend group that meets multiple times a year and has since they attended Aquinas.
He also commented on the tendency for science majors to have eight a.m. classes every semester and his jealousy of the business students having Fridays with no classes.
Additionally, he reminisced about the opening of The Cook Carriage house, a mainstay of Aquinas' current campus. Matt expressed his enjoyment in having Dr. Mckelvy as biology professor many times and often shares stories of him writing entire complicated biology lecture on a chalkboard by memory.
When asked about what makes Aquinas special he said, "The people, the opportunity to make close friendships due to the personable size of campus, the professors that were interested in you and committed to your success, and the feeling of empowerment from things like student senate. Aquinas gives you the ability to seek out your dreams. Not all schools have that."
Matt Flanagan is a clearly kind hearted individual that cares about his loved ones and the treatment for his patients. He is an AQ saint all the way and it shows in almost all aspects of his life.
---
Kathleen (Pollock) Lucking '09: AQ Alumna a Resource to Low-Income Families in Chicago
Published on
By: Lauren Fay Carlson '12
" I've always wanted to work in public health…something that gives back to the community,"
said Kathleen (Pollock) Lucking '09. Earning her bachelor's degree at Aquinas and graduating to Detroit Mercy Dental School in 2013, Pollock studied biology and chemistry, and ultimately dentistry. Now working for Mobile Care Chicago, Pollock applies her passion for health by providing free mobile dental services to patients who cannot afford regular care, contributing a much needed service to community members.
Mobile Care Chicago is a 15-year-old nonprofit with a mission to "deliver no-cost medical and preventative care, education, and support to low-income children and families within their native communities aboard mobile medical clinics," according to their website. Initially focused on asthma care for children in low-income families, the nonprofit expanded to include dental services three years ago. "That was something that was in very high demand," said Pollock.
"Access to care is a huge issue in the city of Chicago," she adds. Many of the families that Pollock treats are either uninsured or have Medicaid, and cannot afford regular dental treatments. By offering free comprehensive care services including cleaning and extractions, Pollock and her team help to prevent major dental problems before they occur. This care, which many might consider standard, is "really helpful for these families," she said.
In addition to the price tag, Mobile Care's services have one other attractive feature: they are mobile. Practicing out of an RV equipped with three fully operational dentist's chairs and all of the necessary tools, Pollock can offer top-rate care in virtually any location. "[We have] basically all of the amenities that you would have in a dentist's office except we're on wheels," she said.
After working for one year at a rigorous, corporate practice, Pollock enjoys the daily change of scenery and the ability to care for patients of all walks of life in various neighborhoods throughout the city. "It's always an adventure," says Pollock, who admits that her Google calendar dictates where she will be at any hour of the day. Working independently but also partnering with local churches, as well as the Archdiocese of Chicago, after-school programs, health fairs, day camps and community organizations, the Mobile Care RV is never short on patients.
Pollock also enjoys interacting with her patients, many of whom have never before been in a dentist's chair. "They're very honest….and very very blunt and funny…which is always a joy," she said. Working with children on a daily basis has also allowed her to be herself, showing off her skill, and her personality. "It was kind of a natural fit," said Pollock. "They laugh at my bad jokes." Treating patients from infancy to age 21 with the majority under age 13, she is constantly in awe of— and entertained by—her patients.
Looking back, Pollock is grateful that she decided to pivot from a pre-med track toward dentistry during her sophomore year at Aquinas. For her, the decision allowed her to explore her passion for health and science, without the risk of life and death on a daily basis. "The fun part about being a dentist is that you get the opportunity to do a lot of the same training as medicine but you're still involved with holistic health care… with none of the anxiety," she said.
Highly involved in a variety of programs like Habitat for Humanity, Community Action Volunteers Association (CAVA), church outreach and various professional organizations, Pollock was able to explore the best fit as she navigated her next step. She even held a research internship at the Van Andel Institute in Grand Rapids. Most of all, Pollock is thankful for the small class sizes that allowed her to form personal relationships with her professors. "That's really what was amazing about being in our school," she said.
Pairing a dedication for public health with a passion for science, Pollock navigated a winding path of undergraduate and graduate studies and her first corporate job to find the perfect position. Working as a dentist in a nontraditional practice, Pollock is pursuing a dynamic career in the heart of Chicago. "I feel good every day that I go to work," she said. "[I'm] giving back and being able to provide a service to a community that needs it the most."