Biology at Aquinas College
Biology and Health Science: Student Clubs
Beta Beta Beta Biological Honor Society
Lambda Alpha Chapter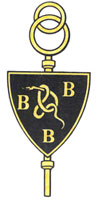 Beta Beta Beta (also known as Tri-Beta) is the national honor society for the biological sciences. Beta Beta Beta was established as the biology honor society at Oklahoma City University by Frank G. Brooks in 1922. The society began expanding into a national one in 1925 when Dr. Brooks joined forces with faculty at several other colleges in the Midwest. It is now represented at nearly 400 colleges and universities throughout the United States and Puerto Rico. The society seeks to promote scholarship in the biological sciences through a variety of social, educational and service-oriented activities.
Lambda Alpha chapter was established at Aquinas College in 1966 by Dr. Frederick Bowman. The chapter's members have for many years sponsored blood drives on campus in conjunction with Versiti Blood. Chapter members regularly participate in annual stream clean-ups on campus. They sponsor field trips to areas of biological interest (such as zoos, parks, and museums) in Grand Rapids, Detroit, Chicago, and other nearby locations. The Lambda Alpha Chapter also travels to the regional BBB research conference to support members who present their research.
To become an Associate Member of Lambda Alpha, one need only have an interest in biology and a willingness to be an active participant in the organization's activities. Students who meet the requirements for induction into the national honor society may join Lambda Alpha as Regular Members. Qualifications include completion of at least 12 semester hours of college-level biology course work and a cumulative grade point average (both in biology course work and overall) of at least 3.0 on a four-point scale.
For more information, contact Dr. Rob Peters (chapter advisor) at lrp003@aquinas.edu.
Michigan Zeta Chapter of Alpha Epsilon Delta
Aquinas College is home to the Michigan Zeta Chapter of Alpha Epsilon Delta, the Premedical Honor Society. AED was founded in 1926 by Dr. Jack Montgomery at the University of Alabama and the Michigan Zeta Chapter was chartered at Aquinas College in 2002. Michigan Zeta supports a variety of activities on and off-campus to benefit Aquinas pre-health students. These include organizing volunteer activities, sponsoring speakers to address topics of interest to students preparing for careers in health care, taking trips to tour local medical schools and staging practice exams for students preparing for the Medical College Admission Test (MCAT).
To join the Michigan Zeta chapter of AED, a student must have completed at least three semesters of course work in the basic sciences (biology, chemistry and physics) with a cumulative grade point average (overall, as well as in science) of at least 3.2. For more information about AED, contact the AED faculty advisor, Dr. Jennifer Hess, at hessjen@aquinas.edu.