Student Employment/OPT/CPT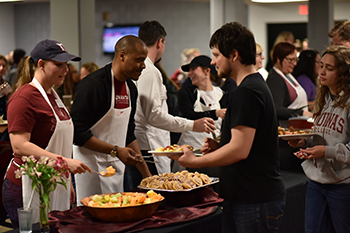 International students are eligible to work on campus for a maximum of 20 hours while school is in session. Students may work up to 40 hours a week during breaks and summer session. In order to work, students need to obtain a social security number. Students who plan on working should apply for a social security card immediately, as it will take time to process their applications. Information regarding getting a social security card can be found on the Global Students Information courseconnect page.
Optional Practical Training (OPT)
OPT is a type of temporary employment for F-1 students that allows them to work in their related field of study while in the United States. Students who are maintaining their status may apply for up to 12 months of OPT either pre or post completion of their program of study. All OPT must be directly related to the student's field of study. STEM students may be eligible for a 24 month extension. Some OPT requirements include:
You must be employed for a minimum of 20 hours per week
All employment must be in your field of study
Employment can be paid or unpaid
You must not exceed a total of 90 days of unemployment time for the entire OPT period
It is MANDATORY for all students on OPT to report their employment information to Nisha van Laar. We report student employment to The Student Exchange Visitor Information System (SEVIS). Students who fail to report their employment information in a timely fashion will be auto-terminated by SEVIS. Report your employment and/or any changes to your employment to Nisha van Laar.
Curricular Practical Training (CPT)
CPT is off-campus training for F-1 students which is integral to their major program of study. It only available while the student in pursuing their degree. CPT may be full-time or part-time but cannot take place during the first academic year. However, if more than 12 months of CPT is used, the student is ineligible for OPT. Part-time CPT does not affect OPT. All CPT requires a signed cooperative agreement or letter from the employer.
All international students need to have their OPT and CPT approved by the Nisha van Laar the Primary Designated School Official (PDSO) at Aquinas College.