Progress: Growing Local Food Systems
Campus Community Garden
We started small back in 2009. As the concept has evolved, so has the garden locations and size. From a 2ft by 2ft plot at Browne Center to an expansion off Fulton Street in 2011, the garden has found a new home near Holmdene. With 188 square feet of raised beds and a spotlight in the center of campus, the garden is not only growing but flourishing.

Gardens are a great use of green space, as they filter rainwater and provide a source of local and organic food. Community gardens provide an opportunity to meet new people and build relationships in a relaxed environment. Gardening has also been shown to reduce stress, lower blood pressure, lower cholesterol, and decrease depression (Eva Shaw, PhD, "Shovel It: Nature's Health Plan").

Aquinas' garden is run by volunteers who come from all different parts of campus with unique perspectives and varied levels of understanding. This provides a social and educational opportunity for faculty, staff, and students- and even the passing by neighbor- to meet and learn in nontraditional ways. It also adds a different aesthetic element to our landscape... and it's edible! All are encouraged to enjoy the fruits of the garden, a variety of vegetables and herbs.

Some notable features of our community garden include:
No synthetic fertilizers, herbicides or pesticides are used on the garden. A unique product called "Plantskydd" was sprayed along the perimeter to repel deer and rabbits.
The garden was planted using square foot gardening, an intensive gardening technique whereby only one type of plant is grown in each square foot.
The soil mix is created by the gardener, nearly eliminating the need for weeding and synthetic fertilizer; a gardener's dream! We chose "Mel's Mix," which consists of 1/3 vermiculite, 1/3 blended compost, and 1/3 peat moss.

Creative Dining Services Sustainability Program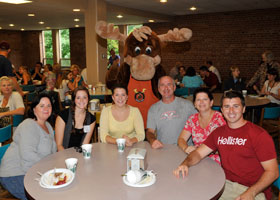 Creative Dining Services (CDS) is a Michigan-based company contracted to provide Aquinas College's food services and catering. CDS provides "thoughtful, high quality, nutritious food and exceptional service, with a focus on sustainability, because we believe FOOD MATTERS."

Through partnerships with several Aquinas departments, CDS has made great strides to grow local food systems and more fully integrate the principles of sustainability into operations.
Water Reduction: Beginning in the Fall of 2009, the company removed all trays from Aquinas' cafeteria, saving water and reducing the generation of food waste. By reducing food waste, water waste is also reduced.
Locally-Grown: Creative Dining is committed to buying food locally from Michigan farmers and the Midwest region. These local purchases extend to salad dressings, cereals, produce, organic herbs, or any available locally-made dairy products (especially ice cream!).
Purchasing for Zero-Waste: In line with the Zero-Waste Initiative at Aquinas, CDS evaluated their purchasing of disposables and transitioned to ordering compostable alternatives for one-time-use food containers.
Waste Diversion: CDS also strives to achieve effective and efficient waste diversion by utilizing the appropriate waste streams at Aquinas for composting and recycling both in the front and the back of the house.
Keeping it Clean: CDS uses Surety green seal-certified cleaning products.