Transportation is a key part of our lives. We commute to work, school, church, sporting activities, and the homes of friends/family. Because most of this transportation is fueled by petroleum/fossil fuels, the mode of transport we choose has direct implications for the environment. Studies predict a peak of petroleum product production between 2020 and 2050 (TRB). This will likely create a disparity between the supply and demand of petroleum, which could have significant impacts on our economy and our pocket books.

At Aquinas, we strive to decrease our consumption of fossil fuels and promote the use of sustainable modes of transportation by our employees and students.

Rapid Bus System Subsidy
With an Aquinas ID, students and employees can ride the rapid bus system for only $0.25 per ride, that's a savings of over $1 per ride. Using public transportation is a great way to save gas money, green your transportation habits, meet new people, and decrease your carbon footprint. From being named the best mid-sized transit system in the country to hit a new one-year record of 12.5 million rides, the Rapid is a great way to get around town. Visit the Rapid website

AQ Bikes
AQ Bikes began in 2013 and had incredible success with 120 rentals in its first year. Each bike is inspected before and after use and equipped with a quality bike lock and helmet for safety and security. Students, faculty, and staff can even rent a tandem bike to ride around our community! Aquinas offers bike rentals by the day, weekend, or quad for a small fee through our Campus Safety Department. These prices are as follows: Day: $3, Tandem: $5, Weekend: $7, Month: $15, Semester: $35. Some specials occur throughout the school year, such as dollar bike day or free bike weekend. For questions, email Ryan at AQbikes@aquinas.edu or call (616) 632-2449.

Bike Rack Initiative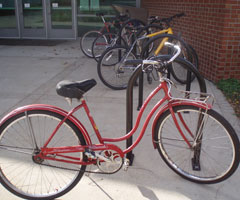 Since 2008, Aquinas has continually added bicycle parking across campus, in the forms of inverted U-Racks and wall mount racks. Providing safe, secure, and attractive bicycle parking is just one way we encourage our campus community to bike to school/work and across campus.

The benefits of installing something as simple as a bike rack are much greater than offering a space to keep a bicycle. Cycling avoids the release of CO2, oxides of nitrogen, and other ozone forming compounds into the air. Consistent grounds elements like bike racks also help establish unity of the campus look and feel.


Community Carpooling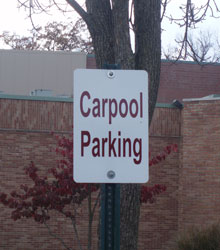 Aquinas promotes carpooling among students, staff, faculty, and visitors. Preferred parking for carpoolers is available by Campus Safety and the Grace Hauenstein Library.

By providing an avenue for ride-sharing, Aquinas hopes to decrease the need for long-term parking of cars on campus and help ease the parking burden currently faced by all members of the Aquinas community. If more students, faculty, and staff utilized alternative transportation such as carpooling, we can better use the current parking infrastructure as opposed to building and maintaining new parking lots, which can have both economic and environmental burdens. In addition, more carpooling on campus means fewer cars are on the road. This change results in healthier air in and around the Aquinas Campus.