Alumni Profiles
Olivia Vargas '18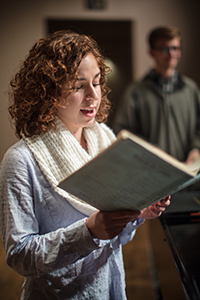 "I was in almost every choir," said Olivia Vargas '18. A liturgical music graduate, Vargas was the only student in the program who utilized her voice as her primary instrument. Passionate about exploring her faith through singing, Vargas was a part of the majority of the on-campus singing groups, as well as off-campus churches and organizations. Studying to become a music director, Vargas had made a commitment to music and faith, looking to guide others in their own musical and faith journeys.
A Detroit native, Vargas was originally attracted to Aquinas' business program, and entered the College as a dual major in music and business. However, after just one semester, "I fell in love music and less with business," said Vargas. Realizing a passion that had been rooted in singing in her home church's choir. "I really enjoy the messages that are coming from the music," she said.
After joining choir in high school, becoming part of her church's youth group and eventually writing her own Christian music, Vargas sought a deeper understanding of worship through music. These experiences "really propelled me into discovering this faith on my own," said Vargas. "I just wanted to know more." So, when faced with switching her major to focus solely on music, the decision was a no-brainer. What came next was the hard part.
As part of the liturgical music major, students are required to designate a primary instrument. "It was a very difficult decision," said Vargas, who noted that most students choose piano or organ. "For me to be a voice emphasis is really not normal," she said. Again, Vargas followed her heart, and became the only vocal musician in the program, choosing to continue to hone her piano and eventually her organ skills as well. In the meantime, she began joining choir groups with fellow vocalists.
Vargas soon became a vital part of AQ College Chorus, AQ Collegiate Singers, AQ Women's Chorus and the Bukowski Chapel Choir, in addition to singing in her own contemporary Christian band, Islands of Mercy. She also serves as the choral librarian for Dr. Mark Webb, associate professor of music, who directs her in three of her four choirs as well.
"Olivia stood out for a few reasons," said Dr. Webb. "First is her natural talent – she is a gifted musician–exceptional voice, good piano skills, composes beautiful songs. She was a tireless worker, and basically lived at the AMC, practicing (piano and voice) and studying."
This work ethic, paired with her passion for exploring faith through music, allowed Vargas to be involved in so many groups, even holding an internship at St. Paul the Apostle Parish in Grand Rapids. Despite this experience, Vargas noted, "I have so much to learn."
But with a music program with deep Catholic roots, "Being at Aquinas makes it quite easy to incorporate faith and worship in choir," said Dr. Webb. "Most of the music that we learn has sacred texts, which we can discuss quite freely."