It's your time to SHINE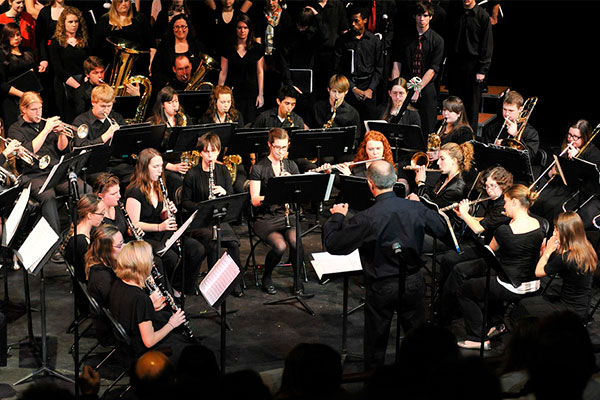 The mission of the Music Department is to provide both to the music major and general education students: first, a deeper understanding and experience of music from the abundant diversity of cultures present today and through the ages; and, second, the verbal and technical skills to communicate that knowledge of music.
The Music Department's role is a unique and treasured component of a solid education within the context of the Catholic Dominican tradition. To further fulfill the Aquinas College mission, the Music Department offers programs of study to prepare students for graduate schools and careers in such fields as teaching, liturgical music, conducting, jazz studies, and performance.
Explore music at AQ
ensembles & OPPORTUNITIES
IMAGINE THE POSSIBILITIES
A music degree is a multi-faceted and engaging path, utilizing many learning approaches to investigate everything we recognize as Music. The great 20th Century American conductor and composer, Leonard Bernstein said "Music can name the unnameable and communicate the unknowable." While some degrees (such as the Bachelor of Arts) may be less of a singularly defined career path like others that are offered at Aquinas College (such as the Bachelor of Music Education or the Bachelor of Arts in Music with a Concentration in Church Music, Jazz or Performance), the nature of these studies which encompass music theory, piano, history and literature, performance - solo and ensembles, pedagogy and conducting, jazz and more enables students to develop skills desired by employers today, such as self-direction, teamwork, problem-solving, critical thinking, perseverance, verbal and written communication, and creativity.
At Aquinas College, many students who are pursuing a Major outside of Music desire to continue their musical involvement and development after high school by: making Music their Second Major; adding Music as a Minor; participating in Performing Groups for General Education credit; taking other Fine Arts or Humanities courses offered by the Music Department; or taking Lessons for credit - Private or Group Instruction - in areas such as Piano, Voice, Guitar, Brass, Strings, Percussion, Harp, Jazz, or Organ. Learning music is a meaningful and gratifying experience for people of all ages.
Quick Facts: Music Directors and Composers
2020 Median Pay
$52,250 per year
Typical Entry-Level Education
Bachelor's degree
Work Experience in a Related Occupation
None
On-the-job Training
None
Number of Jobs, 2020
48,100
Job Outlook, 2020-30
6% (As fast as average)
Employment Change, 2020-30
3,000
Source: Bureau of Labor Statistics
music department essentials
Contact: Barbara Witham McCargar, M.M.
Office: Arts & Music Center 126
Phone: (616) 632-2417
FAX: (616) 732-4487
Email: Barbara.McCargar@aquinas.edu
Art & Music Center, Aquinas College
1700 Fulton St. E.
Grand Rapids, MI 49506
Want to Request for Musicians from the AQ Music Department?
Please complete this form for any on or off campus event(s) that you would like to request the involvement of the music department and its musicians. We ask that you allow 5 business days for a response back from a music department faculty or staff member.
| | |
| --- | --- |
| 1 | Graduates are: teachers in PK-12 and higher ed positions; church musicians; choir and band conductors; opera, classical, jazz, folk, musical theatre, and pop performing artists; private and community school teachers; composers; directors of arts programs; songwriters; and hold master and doctoral degrees in many areas including Performance, Composition, Sacred Music, Choral Conducting, Education, Film Scoring, and Collaborative Piano. |
| 2 | Faculty members have received numerous honors and awards including: Fullbright Award, Governor's Award for Excellence in Teaching, Director's Excellence Award, Young Artist Finalist, Silver Medalist at the American Traditions Singing Competition, New World Symphony Fellow, International Touring Artist, Michigan Arts & Humanities Touring Artist, and multiple Grand Awards for musical theatre roles in West Michigan. |
| 3 | Aquinas is home to a 2017 three-manual Allen Bravura L333 organ, a 2012 two-manual Laucks pipe organ, the 210-seat Kretschmer Recital Hall with two 9-foot concert grand pianos- Steinway and Baldwin- on stage, a recording studio, the 418-seat Performing Arts Center, and 30 additional grand, upright and electronic pianos from top makers: Steinway, Schimmel, Boston, Kawai, Yamaha, Mason & Hamlin, Young Chang, Kurzweil, Roland, and Casio. |
| 4 | Prospective music Majors, Minors, and Ensemble performers must apply and audition (live, virtual, or recorded) for the music faculty in order to receive music scholarship consideration. Almost every Music Major or Minor at Aquinas College receives a scholarship(s) from the department's endowments, over $100K this year. Talent scholarships are also awarded to strong instrumental/vocal ensemble performers who audition for a director. |