Psychology at Aquinas College
Child Life Major offered at AQ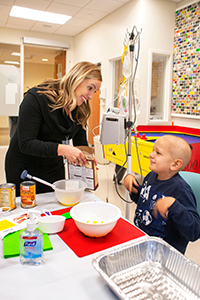 Aquinas College offers a major in Child Life, preparing students to meet the needs of infants, children, adolescents, and their families who are facing medical procedures or developmental risks.
This multidisciplinary degree prepares students to handle many important duties, such as educating children in developmentally appropriate terminology about procedures, diagnoses, or treatments, and working with the family to support their needs. A policy statement from the American Academy of Pediatrics states "Child Life Specialist support decreases sedation use, radiation costs by increasing coping skills for painful treatments, and helps reduce fear and anxiety." Students will also learn how to utilize therapeutic play and counseling techniques to reduce fear and pain and how to play a key communicative role in an inter-disciplinary medical team, offering a more united approach for recovery of the child.
Students who may be a great fit for the program:
Interested in helping others
Drawn to the medical field
Compassionate
Emotionally intelligent
Can relate and interact well with children
The demand for Child Life Specialists is continuing to grow. Nationally over 3,000 Child Life Specialist jobs are available currently on indeed.org alone. Employment opportunities for this position are also expected to raise by 12 to 15% annually over the next several years. Although pay will vary depending on placement, salary expectations for child life specialists range from $40-60,000/year and provide extensive benefits. Graduates of this major will find job opportunities in hospitals, pediatric offices, emergency rooms, dental offices, community programs and other healthcare and community facilities that work with children.
Aquinas is among only a few colleges across the nation to offer a program specific to the Child Life Specialty. The program is housed in the Department of Psychology and Counselor Education and offers 3 separate tracks to best accommodate students who have different educational experiences. Education, sociology, and nursing students are also eligible to complete the Child Life Certification Program by completing the necessary coursework independent of and in addition to their major requirements. Students who complete the BS in Child Life will meet all requirements for certification as a Child Life Specialists except for the Internship in Child Life, which is completed after graduation, and the certification exam, which is taken through the Association of Child Life Professionals.