Sociology at Aquinas College
Welcome to the Sociology Alumni page. We want to create a social location where sociology graduates of various years can come together. Our hope is to build a committed core of alumni who will advance the department and its current students.

If you graduated from one of Aquinas College's Sociology programs, we'd love to hear from you. Fill out this form to let us know what you have accomplished post-graduation.
Sociology Alumni Profiles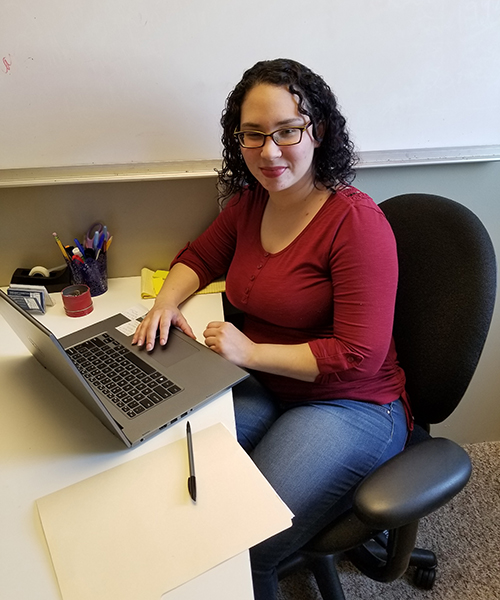 Mayerlyn Benscome '18
Life for the working mother of three young children was already an uphill climb, considering she does not speak English as her native language and she's legally blind, but she made the decision to come to AQ and finish her degree. >Read More

Aubrey Kirby '16
"I'm going to be working at Catholic Charities in Grand Rapids as a Child Welfare Caseworker. I'll be working with children in foster care and their families (both biological and foster care parents). The job involves a lot of paperwork on the families, transporting children to court if need be, supervising visitations with children and their parents, and helping out foster care families with any problems that may arise."

Mackenzie Glaros '15
" I have chosen to accept an offer from Western Michigan University in their Counseling Psychology program! They also offer a PhD program which I am hoping to be accepted to after I finish my Masters. It is such a great fit for me and what I want to do. They have a big emphasis on being culturally aware in order to know how to best serve our clients, which I of course loved."

Carina Lagattolla-McGrath '15
"I actually just moved to Idaho and as of today accepted a job working with a wilderness therapy program for troubled teens."

Molly Cook '14
"I will be going to Illinois State University in the fall (16) for the Sociology Master's program as a Community and Economic Development Fellow. It is a program for people who have done a past year of service! It is through the Stevenson Center, so I will be a Community and Economic Development Fellow with people from multiple disciplines through the Stevenson Center and take some classes with that cohort, but also be getting a Master's in Sociology. I will take classes and T.A. a Social Problems class my first year, and in my second year I will have a placement at a non-profit agency and work on a thesis."

Katie Hawley '11
Upon graduation, I knew that I wanted to enter the work force and hadn't thought twice about graduate school. I currently work for the City of Wyoming at the 62A District Court as a Deputy Court Clerk. I always knew that my societal interests weighed heavier on the criminal justice end; however, after entering the work force and speaking with potential employers, I have decided that a master's in Public Administration will open more doors for the future. I hope to continue my career with the City of Wyoming, and eventually work in other departments of the city government.

Kelsey Leonard '09
After graduating from Aquinas College in May 2009 with a Bachelor of Arts degree in Sociology and Psychology I began the Master of Social Work program at Grand Valley State University. Although I was more interested in Community Sociology at the time, I decided that the Social Work program would open many doors for my future. While in the MSW program, I began an internship at Bethany Christian Services in the Early Impact program. For the next year, I worked with families that had been substantiated by Child Protective Services for child abuse/neglect. This internship opportunity opened my eyes to many issues throughout the year and it proved to be a very valuable experience for my career. After graduating with my Master of Social Work degree in April 2011, I was hired by Arbor Circle to be a KSSN clinician in the Cedar Springs school district. My role as a clinician in the KSSN program is to work with children with a mental health disorder in hopes of reducing the academic and behavioral problems that these children are experiencing.
Regina (Berlin) Wright '05
After I graduated from Aquinas College in May 2005 with a Bachelor of Arts degree in Sociology and a minor in Spanish I worked as an assistant for a title company, TriUnion Title. While working there I decided that I wanted to go to law school so I enrolled at Thomas M. Cooley Law School in Grand Rapids. I graduated from Thomas M. Cooley Law School in January 2011 and passed the Michigan Bar Exam in May 2011. I currently work for a Peterson Paletta, PLC a law firm in Grand Rapids, Michigan. I married in September 2009 and live in the Alger Heights area with my husband and dog, Batman.