Spanish at Aquinas College
Aubrey Ruiz '19
Aubrey Ruiz (2019) began her academic career at Aquinas College in 2015. Although Ms. Ruíz is from Salt Lake City, Utah; she chose to pursue her education in the Midwest. One of the most weighing factors in her decision to attend Aquinas are the highly sought-after Study Abroad Programs offered through the Advantage Center. As a Spanish Major in the Department of World Languages, this program supports her desire to learn and explore the Spanish Speaking World. In the Fall of 2017, Aubrey embarked on her journey to Salamanca, Spain where she studied for the semester.
Electing Aquinas College has been a life changing decision for Aubrey. The courses she has taken at Aquinas have advanced her Spanish speaking, writing, and reading skills. A specific course that has successfully challenged her is Engaging Latinx Grand Rapids. Part of the requirements for this course include a Service Learning component. Aubrey has had the opportunity to volunteer on a weekly basis at César E. Chávez Elementary School.
This school is part of the Grand Rapids Public School system and is a transitional bilingual elementary school. Aubrey aids a third-grade classroom with very energetic students. Several students in that classroom have recently moved to the United States from Spanish speaking countries such as Guatemala and Mexico. These students depend heavily on the communication between Aubrey and themselves to understand and complete their given tasks. During her volunteer hours, Aubrey translates the English directions from the teacher into Spanish, and helps explain the task. This is rewarding for Aubrey because she witnesses the direct results of aiding children in their education.
Ms. Ruiz intends to graduate in May 2019. Eventually, Aubrey plans to return to postgraduate study in order to become an Elementary Teacher in a bilingual or Spanish immersion program. It is her hope to implement her language degree in her daily life and the lives of others.
---
Azra Fazil Jamal '17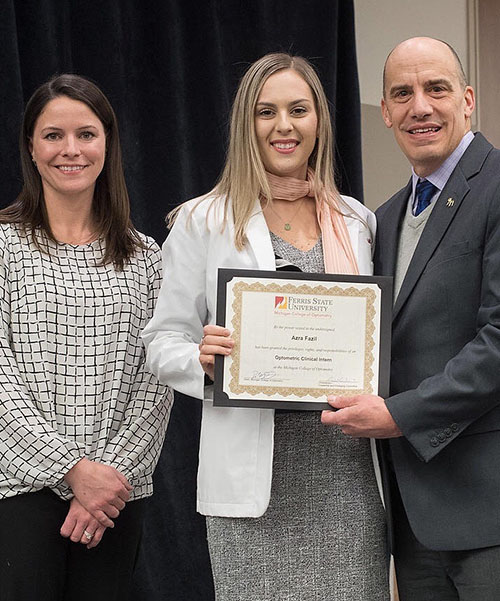 The Spanish education that I received at Aquinas College was absolutely wonderful! What I enjoyed the most about it was how much learning took place outside of the classroom. My warmest memories include road trips with friends and faculty to outside universities such as Saginaw Valley State University and Wayne State University to attend professional conferences, network with other passionate Spanish scholars, and present research in the field! Another highlight of my AQ Spanish career was volunteering as a Kindergarten teacher aide in a Spanish-speaking classroom at a nearby elementary school. What started out as only a semester-long volunteering endeavor for one of my Spanish classes, ended up as a year-long commitment. I had so much fun engaging with the kids of the local Spanish-speaking community that I just could not pull myself away from them.
My overall experience at Aquinas College was just as meaningful. The faculty members of every single department knew me by my first and last name and always thought to include me in extra-curricular opportunities that they thought would interest me specifically and align with my future goals. Everyone was always flexible in scheduling one-on-one time for reviewing lecture material and answering questions. No matter the season, the charming campus always felt very welcoming and cozy. A simple walk through the tree-lined paths would clear my mind and relieve any study stress I was experiencing. AQ is the kind of learning atmosphere that you remember forever and truly reflect upon with nostalgia after you graduate.
Currently, I am an optometry student at the Michigan College of Optometry at Ferris State University. I am wrapping up my third year and preparing for my clinical externship rotations which will take place in various cities across Michigan next year. I can certainly say that AQ was one of the most influential reasons on why I was accepted into one of the top 10 optometry programs in the nation. The Spanish education I received at AQ shaped me into a more well-rounded candidate who had more to offer than just standardized test scores and scientific knowledge. The admissions committee was more interested in my Spanish language and research background than anything else in my portfolio! We spent the majority of my admissions interview chatting about my experience interviewing native Spanish speakers around West Michigan for linguistics research. I shared with them how complete strangers opened up to me and shared powerful life stories for hours on end as we shared warm cups of coffee. The AQ Spanish program allowed me to adopt a more global perspective, and taught me how to communicate at the highest level in Spanish and inevitably, in English! These communication skills are now with me for life-at job interviews, in the medical exam room with patients, or even with strangers in coffee shops right around the corner or across international borders! I am immensely thankful for all of the intelligent, kind, and devoted AQ Spanish faculty that helped me achieve all that I have so far, I miss you all!