Sustainability Initiative at Aquinas College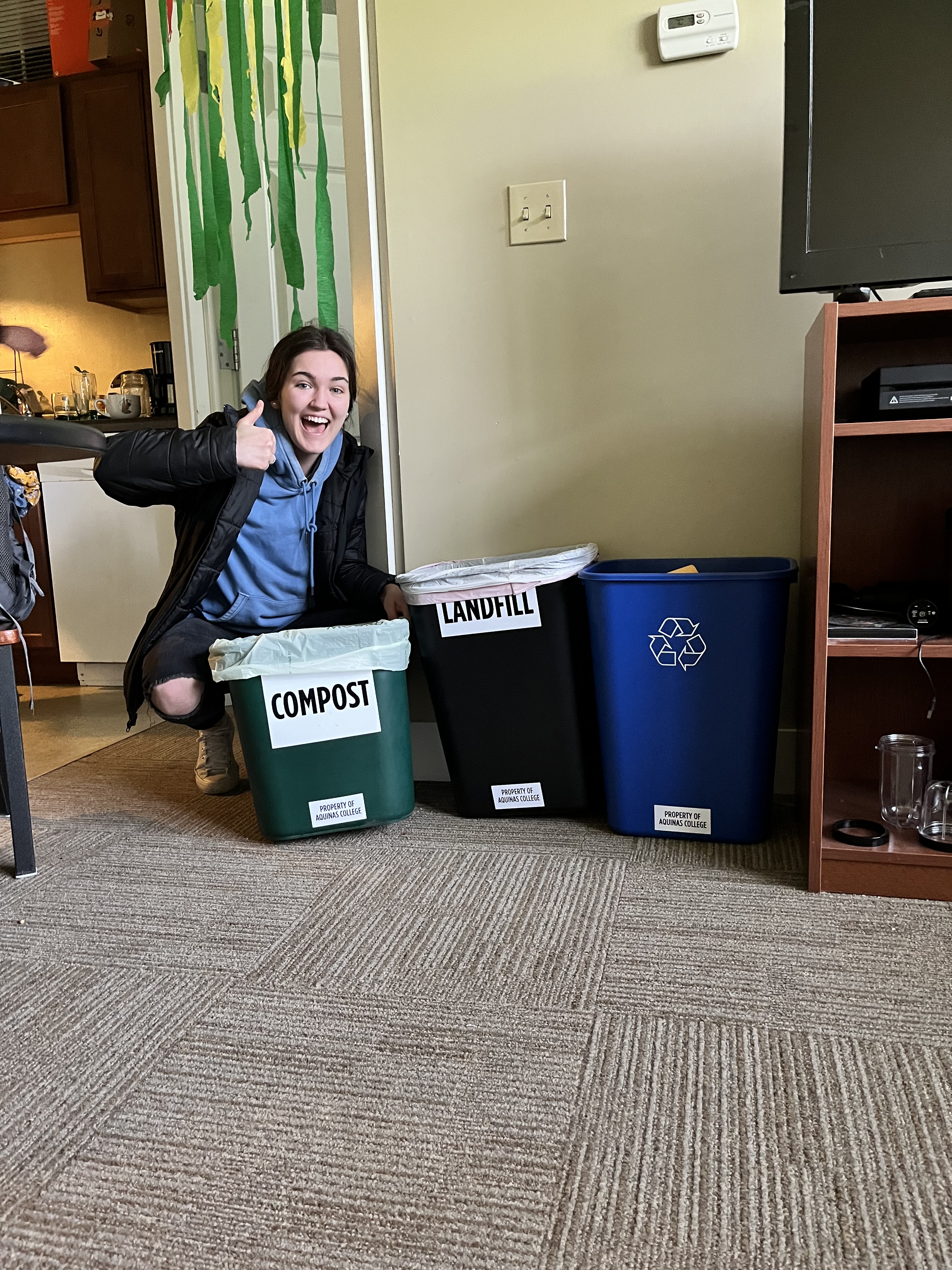 Our Zero Waste programs and strategies on-campus have played a crucial role in pushing us towards our goal of a 90% diversion rate. However, many members of the Aquinas community live off-campus and we want to make sure everyone has the tools they need to practice Zero Waste at home.
Important note: we cannot accept off-campus waste from staff, faculty, students, or community members. This increases expenses for Physical Plant and changes our campus diversion rate metric. While we want you to continue to use our systems for on-campus generated waste, please do not bring any waste from home to the Aquinas campus. Use the following resources for tips on diverting waste at home.
Recycling
If you live in a single-family home in the City of Grand Rapids, you can recycle for free! Visit the City of Grand Rapids website to sign up. If you live outside the city limits, you can still drop off your recycling for free at one of Kent County's three free drop-off stations. Check out their website for locations and hours of operation.
Composting
Commercial composting is also available in the Greater Grand Rapids area through the company Organicycle. The weekly curbside pick-up only costs approximately $110 every three months, and the company accepts the same waste as Aquinas' composting system. Another option is Wormies, a vermicomposting company in Grand Rapids that accepts most food waste for about $16 a month. If this isn't in your budget, try creating a backyard compost pile or starting a worm bin to dispose of organic waste. This website is a great resource for anyone looking to start composting at home.
Goodwill
Give new life to your old household goods and apparel by donating these items to Goodwill. Goodwill accepts donations at nearly all of its stores. Learn more
Terracycle
The Aquinas community loves upcycling their snack bags, candy wrappers, and personal care items through Terracycle. Did you know you can sign up for Terracycle for your home?! Visit their website to register.
Comprenew
All electronic waste (anything with a battery or a cord) can be recycled at a Comprenew location! (Please note: Some items can be recycled for free, while others have a small fee.)
Hazardous Waste
Properly dispose of hard-to-recycle items such as paint, antifreeze, and fire extinguishers. Visit the Recycle Kent site to learn more.