Crushing It in Ohio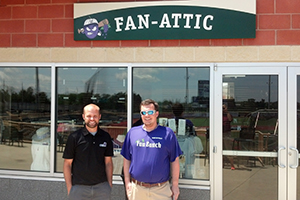 Summer 2017 allowed Alec Gignac '17 (right) to participate in an internship with the Lake Erie Crushers. While there, Alec worked with Mike Kalchik '11 (left), who is currently the Director of Ticket Sales for the Crushers. Both men are graduates of the Business Administration Sport Management program.
---
Students Impress Grand Rapids Griffins Execs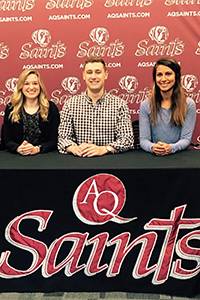 April 2018, the Aquinas College Sports Management program teamed up with the Grand Rapids Griffins to host a group sales classroom project. Modeled after the show "Shark Tank", groups of students gave five-minute presentations on group sales ideas that could be implemented during the Griffins' 2017-2018 season.
Groups were asked to outline the overall concept of the theme night, their target market and strategy for reaching that market, how they would utilize a Griffins sales executive and the revenue and ticket goal for the event.
The panel of "sharks" judging the student presentations included Matt Batchelder, VP of Ticket Sales, and John Hoffa, Director of Group Sales.
---
Students Take Part in Van Andel Arena's 20th Anniversary Celebration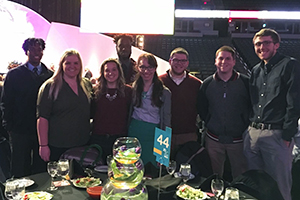 On January 17, 2017, students from Aquinas, Hope, Calvin, Cornerstone, Ferris, and Davenport were invited to attend Van Andel's 20th Anniversary Celebration. The event celebrated the impact the Van Andel Arena has had on Grand Rapids, especially in regards to athletics.
The night began with a discussion panel exclusively for local Sports Management students. The three panelists were Al Avila, the General Manager and Executive Vice President of Baseball Operations for the Detroit Tigers; Jeff Bower, the Detroit Pistons General Manager; and Ken Holland, Executive Vice President and General Manager for the Detroit Red Wings. These men discussed how they got to where they are today, as well as the skills needed to thrive in the professional sports industry.
"It was an incredible evening," said Paul Sommerville, '18. "My personal favorite moment of the event was when Ken Holland discussed the importance of a positive, winning culture that creates not just champions on the ice, but also in life. A place he firmly believes is a model of that is the city of Grand Rapids."
They also emphasized the individuality of Sports Management. "The three GMs proved that there is no such thing as a perfect path to success," said Erica Erway, '17. "Every one of the men held a different path to where they are today, and that began with following one's passion and stepping out of their comfort zone. Because of this event, I found strength knowing my path is meant just for me."