Communication at Aquinas College
Chris LaPorte
Chris LaPorte, Associate Professor of Art at Aquinas College and Aquinas College Graduate, has most recently completed "The Sister Project". LaPorte has been well known in the West Michigan community since 2010 for his 28-foot-wide pencil drawing "Cavalry, American Officers, 1921" that took first place in ArtPrize. This piece is on display at the Aquinas College Grace Hauenstein Library. Since ArtPrize 2010, LaPorte has continued to create and exhibit his large scale drawings.
"The Sister Project" actually consists of two similar drawings. 'The Dominican Sisters of Marywood' is a 3/4 life size portrait on permanent display at Marywood, the Dominican Center and home to our local nuns. It depicts the sisters most influential in the establishment of the Dominican order in West Michigan. 'The Dominican Sisters of Aquinas ' is a life size portrait of the sisters who had the greatest impact on Aquinas College. The two drawings are meant to symbolize and memorialize the connection between these two great institutions and and women who created them.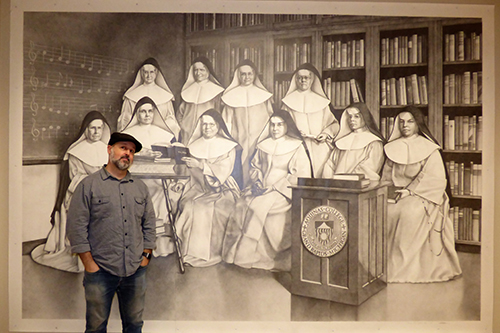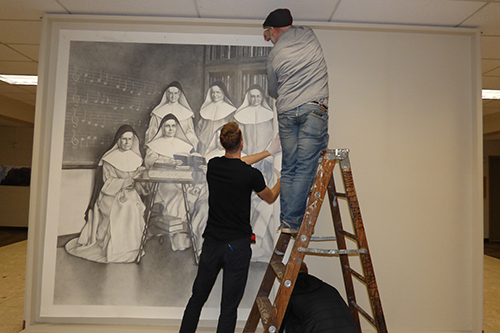 The Sister Project also celebrates the life of the beloved Aquinas College alumna Connie Kowalsyk. Connie was a continuing-education student who majored in Communication. Both as a student and a graduate, Connie had an unbelievable bond with the students and faculty at Aquinas, and touched so many of their lives. Connie's Catholic faith and spirituality, rooted in her Marywood Academy education, guided how she treated people on a daily basis.
"Connie Kowalsyk lived a life worth living". She was "helping to shape the identity of the College she loved so much".

"She was and is the perfect representative of Aquinas values".

"She was an angel on earth".

"I knew within the first moments of meeting Connie, she was a giver".
And a giver she was. After going home to her Savior, Connie donated a substantial gift to the Communication Department with the intent of creating a lasting tribute to the Dominican sisters and the college. This was a gift they chose to keep on giving. The faculty in the Communication Department decided to use the gift to honor Connie and the Grand Rapids Dominican Sisters. The piece also gives even more of a daily, on-campus presence of the Dominican women who founded the College. Upon conversation with Sister Maureen Geary, current prioress and soon-to-be councilor for the Dominican Sisters of Grand Rapids, the decision was made to create The Sister Project.
LaPorte agreed to be a part of this celebration. With the help of Sister Mary Navarre, Marywood Archivist and former AQ faculty, LaPorte identified a number of historical photographic references. He made specific artistic choices, such as adjusting the original photo to include 10 Sisters instead of 8, altering the angle so that spectators would feel as though they are sitting in the classroom with the Sisters, and customizing the details to accent Aquinas College itself. His vision in creating these pieces were for the particular individual portraits to be as accurate as possible, while also encouraging students to think about the women who "actually did the work" in creating this institution.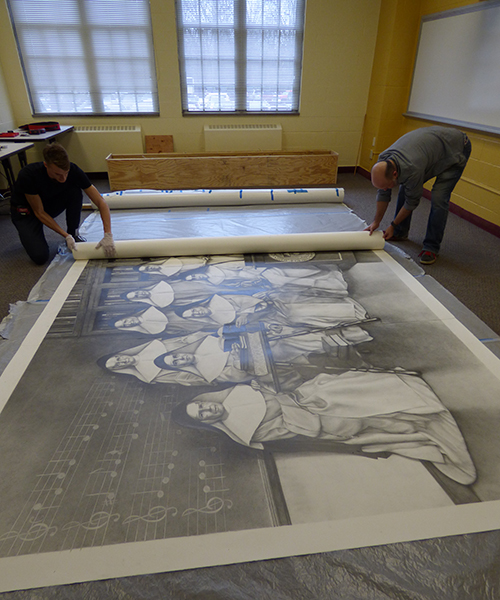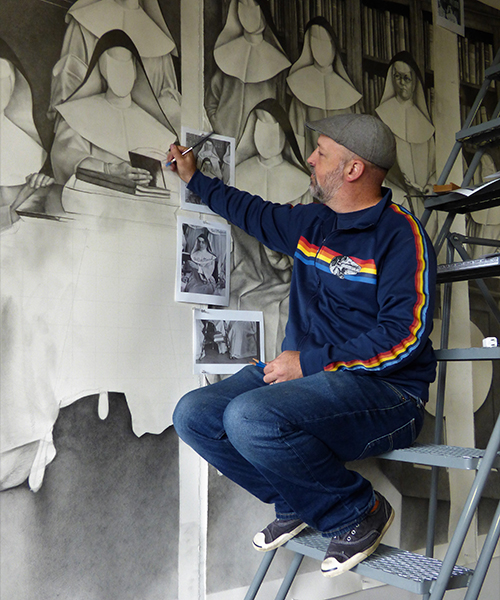 After installing the Aquinas drawing, LaPorte said "You have the face of Aquinas on one side, and the Dominican Sisters holding up the wall on the other side". This two-piece project provides another symbolic connection between the Grand Rapids Dominicans and the Aquinas College Community, emphasizing how one could not be possible or complete without the other. 'The Dominican Sisters of Aquinas College' is on permanent display in the west wing of the Academic Building as of Dec. 3rd, 2018. 'The Dominican Sisters of Marywood' is located in the main lounge of the Dominican Center.
---
AQ Graduates Meet Again in Pursuing their PhD.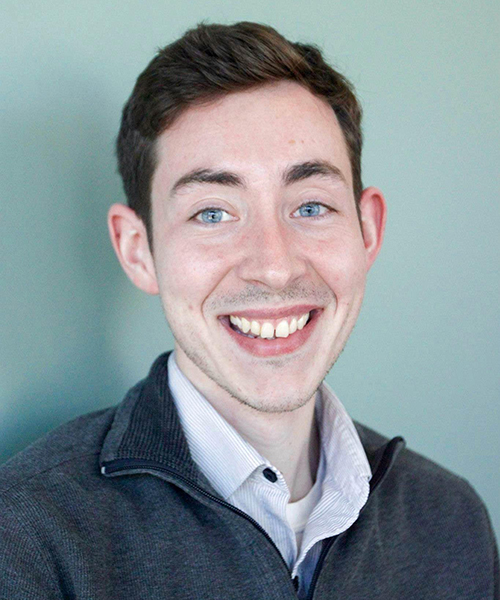 Brett Stoll
"When I first arrived at Aquinas, I was an International Business major," said Aquinas College Graduate Brett Stoll. He thought he knew exactly what path he would take, but upon starting classes, the first course on his schedule was Intro to Communication. "I liked the theories, the contexts, even the public speaking exercises which posed a direct threat to my crippling public speaking anxiety. I decided early on that was the strongest indication of which major was right for me, and by Spring I was a declared Comm major." He later took Advanced Public Speaking, which allowed him to make the most of every opportunity he had in front of people. He also included that it was a fun, safe space to really hone his speaking craft and find the voice that best fit him.
Stoll said that getting to know his professors and seeking out internships gave him "one of the most worthwhile internships and eventual job opportunities [he'd] every received". He later chose to receive his MA in Interpersonal Communication and discovered an interest in Human-Machine Communication. "It was ultimately this interest in understanding how people react and communicate with computers agents and robots that inspired me to pursue a PhD." He mentioned his decision to pursue a PhD was anything but planned.
Stoll said his doctoral days are much different than his undergraduate days. He illustrated his work in stating, "I spend many days in the lab, running experiments where people (individuals or small groups) interact with social robots. When I'm not running studies, I'm usually either reading/writing about human robot/computer interaction or engaging in a variety of teaching/assistance in the undergraduate communication courses." Stoll's dedication to his work led him to the achievement of publishing his research in a top-tier HRI conference, the International Conference on Human-Robot Interaction, and presenting the work to several hundred HRI designers and researchers. Brett summarized that "Having the opportunity to meet and brainstorm work with experts in my field has been a phenomenal opportunity."
The opportunities Brett has had are quite special, and what makes them even more unique are that he is in the same doctorate program at Cornell as another Aquinas Graduate, Chris Skurka. Brett explained what this experience is like. "Honestly, it was pretty astounding when I saw Chris's name on the prospective student lists. I remember reaching out via email asking him if he was in fact, THE Christofer Skurka, the same Chris I had my AQ Comm Capstone class with." He continued to describe his joy "It's always fun to reflect back on our different experiences at AQ and make reference to people, places, and things that no one else understands. AQ roots run deep, and Chris has become one of my closest peers in the program."
As Brett's undergrad and doctorate program have treated him well, he clarified where he sees himself in the future, "My heart truly lies in working with students and helping them find the most exciting aspects of communication research and practice. I want to be the mentor for incoming students that my undergraduate professors were to me, whether in the classroom, through research opportunities, or simply through helping someone get through their first public speech." Brett truly has a passion for Communication, and he encourages anyone interested in pursuing graduate studies to find faculty and current graduate students that share this interest.
"There is not a faculty, staff member, or grad student in [the Communication] department who isn't willing to chat."
Christofer Skurka
Christofer Skurka came to Aquinas intending to earn a double-major in Spanish and International Business. After finding that business was not what he was passionate about, Skurka considered his friend's recommendation to take Introduction to Communication.
I fell in love with the material. The idea that there are theories that help us understand how people interact...that blew my mind!"
A highlight for Skurka in choosing this program was "having the opportunity to conduct his own research study from conceptualization to writing to presentation." Skurka stated, "It definitely put me at an advantage when I started my master's program."
After graduating Aquinas, Skurka continued his education in pursuing a Master's degree. This experience granted him the opportunity to complete a few projects with his advisor and realize how interesting it would be to begin his own research program. He summarized, "That realization inspired me to pursue a PhD and become a professor." Skurka said these days in grad school require a lot of reading and writing. "What really separates it from an undergrad program," he shares, "is that you are expected to develop your own identity as a researcher." While joining the doctorate program at Cornell, he met back up with his fellow classmate Brett Stoll, another Aquinas College Graduate. "It has been fantastic," Skurka shared, "It was a pleasant surprise when we realized we were going to be in the same program."
From Aquinas to Cornell, Skurka has been recognized for his work. "My proudest moment was receiving a research grant from the National Science Foundation (NSF). The NSF funds grants for PhD students who are conducting their dissertations, and it was very validating that a major government organization saw value in the work I'm doing!" he explained. This was definitely something Skurka viewed as an accomplishment, but his dreams continued to grow.
"I am especially interested in persuasive appeals to understudied emotions such as anger or compassion," Skurka said. He plans to answer many questions in the near future relating to crafted messages that are tied to emotional responses, and how they alter behavior. "Additionally, I aim to bring this research into the classroom by teaching undergraduate and graduate courses on strategic communication about health, environmental, and science issues," Skurka said. Along with all of this, he is most grateful for his new position at Penn State in the Department of Film/Video and Media Studies where he will be an assistant professor of science communication. Dedication and hard work does not go unheard. "Fit is key," Skurka concluded.
---
Jeanette Pierce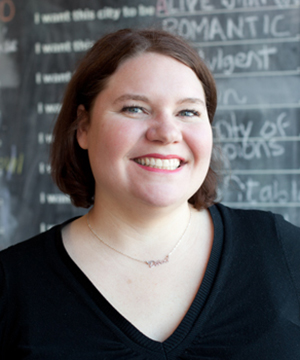 Jeanette Pierce is an Aquinas College graduate who chose to major in Communication. She made this decision in realizing that Communication is a part of everything, whether that be in day-to-day interactions or life in the business world. She dove deeper into the study of language, as she minored in both Spanish and English. This gave her the bilingual ability to be able to communicate in even more diverse groups. Similar to many students, Jeanette always had a desire to have a positive impact on her city, but she went above and beyond to make these dreams a reality. And because of this, Pierce is known today as the Founder and Executive Director of Detroit Experience Factory, which offers tours and experiences in the city of Detroit, Michigan.
While Jeanette took on this role in Detroit, she admired how each day was different. She shared her love for the many categories that her work is broken into, "Collaborating with community members and leaders on community events like Final Four, the Detroit Policy Conference or Crain's Detroit Homecoming; planning tours and events with clients; and leading VIP tours and experiences throughout the city." Jeanette highlights her favorite part of her position to be how she is able to connect with locals and visitors of Detroit. She states, "Basically, I was able to take what I love to do, make it a job and have a positive impact on my community."
Jeanette goes on, "I once said 'I would love to get paid to talk about Detroit', and it was so crazy at that time that I might as well have said I want to be an astronaut. Now my organization has taken 115,000 people on tours of Detroit including the mayor and governor and I've realized the most important thing. That Detroit is big enough to matter in the world, but small enough that you can matter in it."
Jeanette's career continued to flourish, and as of 2018, she was named Crain's Detroit Business 40 Under 40. In expressing her honor for the award, Jeanette said "Working in the nonprofit sector has a lot of great positives and especially in my work I can see the impact almost immediately. That being said, there always seems to be more work to do and sometimes it can be overwhelming, especially when it comes to fundraising. Getting acknowledged for the work you do can be just the boost you need on those tough days." Jeanette's strength and passion for her career is clearly displayed.
"I tell everyone to ask themselves what their crazy, wild, wand-waving dream would be. It can help you realize what you love to do and get you on path to loving your job. Even if the absolute dream job doesn't happen you'll know more about what you want out of your future."