Communication at Aquinas College
Jacqueline Skorka
Jacqueline Skorka is a Communication and Writing major at Aquinas College. She came to Aquinas with an unknown passion for Communication, but discovered this passion during her freshman year. While taking Intro to Communication, Jackie revealed her new fervor for the Science of Communication. She says, "The more classes I took in the discipline, the more I loved public speaking, theory, etc. I have loved learning about people and why we interact in the ways we do."
Jackie is also a part of the Communication Lab at Aquinas. She knew she wanted to be a part of it immediately because of her love for Public Speaking and willingness to help others. In fact, Jackie was one of the first students to be involved with the Communication Lab; she is currently a Lab Facilitator who is in charge of the social media accounts. She mentions that the most challenging part of this job is deciding the perfect way to help students meet their needs, "Sometimes they just need to brainstorm, talk out ideas, get help with an outline, or just hear feedback." Any reason for coming to the Communication Lab is a valid one, and Jackie will always be there to help.
Jackie described a typical day in the Communication Lab. She commented that it starts with reviewing the specific appointments made for that day and what she can have prepared for the student when s/he arrives. A big part of the Communication Lab is tailoring the experience to the individual she is helping out. She expanded upon this when she said, "I've learned that every student that walks in the lab doors is going to be different. Sometimes explaining isn't enough, they are more visually oriented and so we tackle their issues by writing things out or by showing examples." She continued, "The moments I see even the smallest of things click in their head or a small weight of relief lift off their shoulders because they feel they might actually be able to get through, it is irreplaceable." Once the appointment is finished, Jackie helps the student sign out and asks him/her to complete a survey. To students considering joining the Communication Lab, Jackie quotes, "If you are even considering it, do it."
Although Jackie is uncertain as to what type of job she is looking for out of college, she knows her experience will be useful. She has discovered a lot about herself during her time at Aquinas, including her ability to work in groups and learn as much from others as possible. In doing this, Jackie has also developed some important life-long skills. She can now patiently work with people of all different communication styles, helping them along the way. Jackie believes the Communication Lab separates Aquinas from other Communication Departments because it shows, "how much they truly care about every student." Jackie is taking part in this mission by caring for every student that steps through the Lab's doors.
---
Sam Kaser
Sam is a traditional-aged Aquinas student pursuing a degree in Business Administration and Communication with a minor in writing. But what Sam did this past summer wasn't in any way "traditional." Sam worked as an intern in the office of President Quinn. Sam is the first student to be selected for this position, so it was formed and shaped specifically for him with the needs of the President's Office in mind. In sharing some reasons why he wanted to explore this opportunity, he said "My interest in the internship in President Quinn's office was sparked from my interest in pursuing my career in higher education." Sam also expressed how this would mix extremely well with his career objectives within the business and communication fields. He found this internship to be a valuable opportunity to put his obtained knowledge into direct practice. It gave him a glimpse into the day-to-day workings as well as the challenges and opportunities of the President's Office in Higher Education, and Sam believes the experience will give him a distinct advantage as he applies to graduate programs in higher education administration.
Sam shared that a typical day as an intern in the President's office would consist of working with Aquinas College committee members. He went on to detail his direct work with Athletic Director Nick Davidson and the extensive research he helped to facilitate for Aquinas. His usual week consisted of 30-50 work hours, consistent with an average summer job. The difference, Sam says, is the unique experience. "Whether it be over phone, email, in person or Google Hangout, I was able to hone the skills I will need in my higher education career to communicate my ideas concisely and effectively." Sam had some parting advice for any potential communication majors:
"For those looking into Business and Communication, I would advise to take advantage of every incredible resource offered to you at Aquinas...If you are looking for it at Aquinas College, you may certainly find it."
Gates Domeier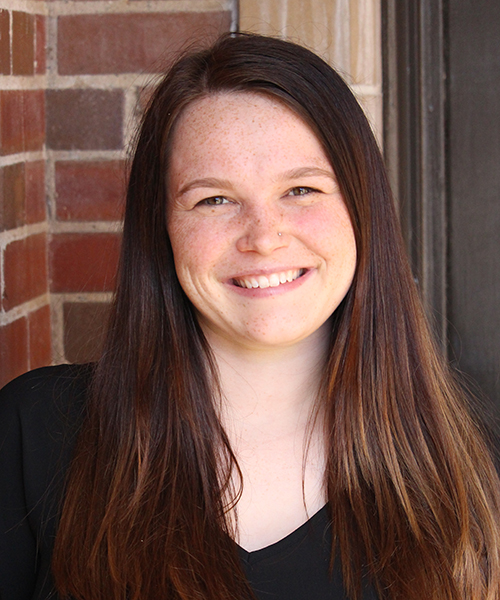 Gates Domeier, Transfer Student and Communication Major at Aquinas, fell in love with the art of communication after taking a public speaking class. Once she transferred to Aquinas and took Advanced Public Speaking, Gates said that a few classmates had mentioned the idea of starting a public speaking club. So in the following semester, she decided to make that club, S.P.A.R.K., a reality.
S.P.A.R.K. stands for Speech, Performance, Art, Rhetoric, and Knowledge, focusing on the broader idea of communication, rather than just public speaking. Gates articulates on this idea saying "Communication is filled with diversity! Thoughts, feelings, and emotions can be elicited through poetry, music, theater, improv, motivation speaking, art, persuasion, and much more!" S.P.A.R.K. offers students the opportunity to practice active listening. Gates assures that is a safe and comforting environment for all of those who join, whether they love public speaking or not. "It is about establishing a supportive community of students who practice effective communication in all forms".
As a founding member of S.P.A.R.K., the club's e-board nominated Gates to be the President. "I hold a lot of responsibility in event planning, organization, leadership, and much more," Gates says. "I find this role challenging in the sense that I have never started a club from the ground up before." She sees these learned skills as an asset for her future plans.
"Personally, I hope to teach communication at the college level one day. SPARK has taught me endless things regarding relationships, teaching, and organization. The founding of SPARK has helped me develop my individual leadership style, as well as speculate on how I want to motivate and inspire my students."
Gates is eager to build the strength of the club. Targeting students interested in Communication, she shares: "Its individuals like you who will help us do it! The club's long term success depends on you!"
---
Anne Walsh
Anne found her calling in advertising, working for advertising agencies with big name clients such as General Motors and Samsung. She learned the business of advertising nearly in its entirety, working her way up from an entry level position to a high level advertising director. All of this collective advertising experience led to her current position at Facebook as an advertising representative that works with General Motors. In this position, she helps GM plan and create effective and targeted advertising as well as helping determine where best to place the ads online. When asked what she likes about her position, Anne stated, "Facebook is a cutting edge company all about connecting the world and bring communities together. It is amazing to be apart of something like that."
---
Kylie Case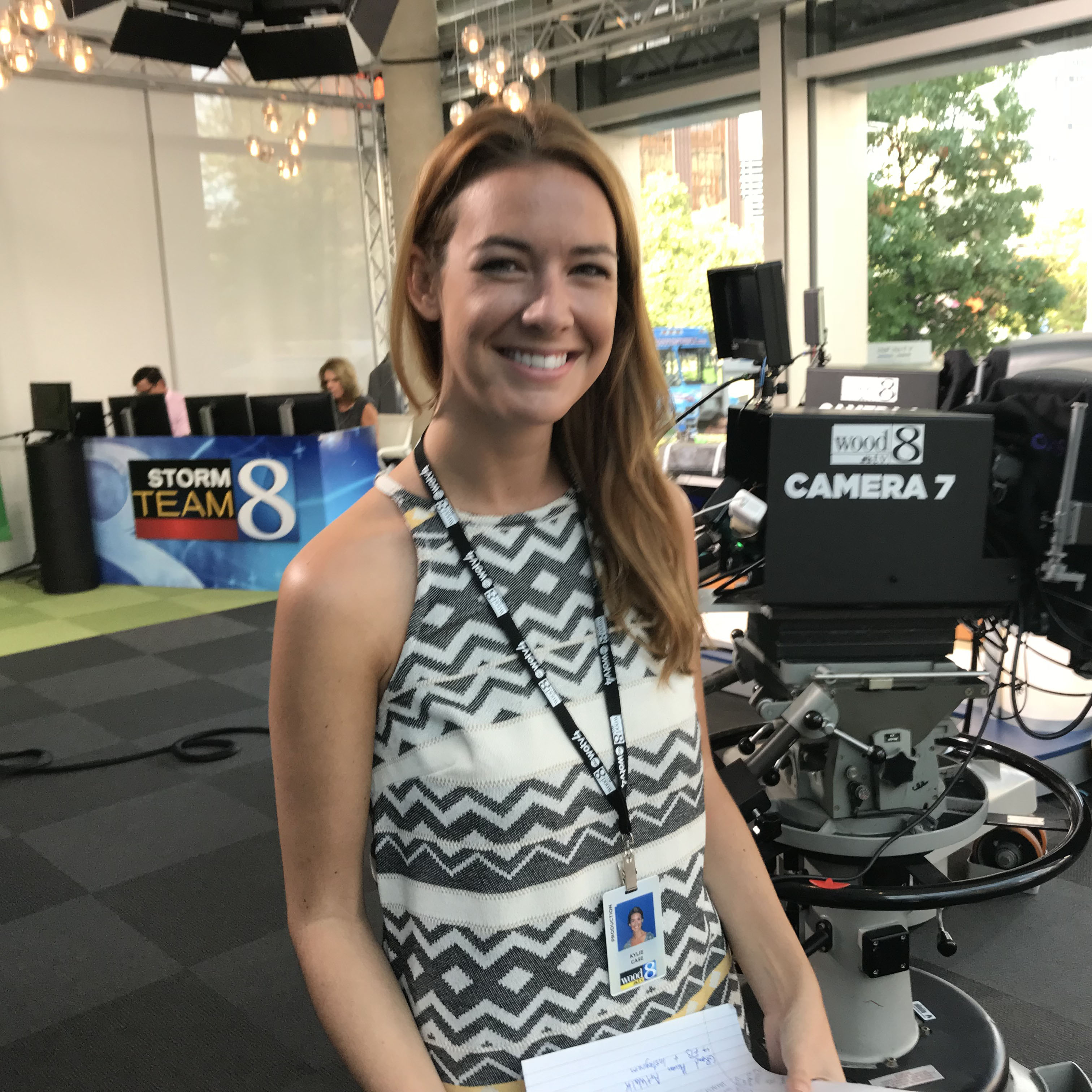 I chose my area of study based on an Introduction to Communication class I took my first semester. My professor, Dr. Borton, was great and the class was very interesting. The experience inspired me to take more Communication classes, where I was then introduced to more enthusiastic professors from the Communication department and, also, an area of study I hadn't previously considered but found fascinating.
I had an internship at WOODTV in the Spring of 2017 and they hired me on in the fall to assist the producers of Eight West and Maranda Where You Live with social media, web content, guest relations, on-location production, etc. I think what I like the most is that every day is a little different, but with a similar structure. It keeps things interesting, yet stable at the same time.