Alumni Profile: Rachel Edgett 2013 Nursing Program Graduate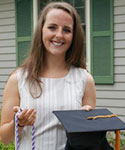 Hi, my name is Rachel Edgett. I graduated from the nursing program at [AQ/University of Detroit Mercy (Detroit Mercy)] in May 2013 and I can honestly say it has changed my life. I currently work at Mercy Health St. Mary's in the intensive Care Unit, which is something I am very grateful for and could not have done without this great program.
The faculty is amazing! Whenever I had questions, they went above and beyond in helping me out, even giving me their cell phone numbers, so I could text them questions I had. This program helped prepare me for what nursing is really about and gave me the skills and tools to succeed in the workplace. The AQ/Detroit Mercy nursing program is widely respected throughout the Grand Rapids area and it is a program that I am proud to say I graduated from. The connections I made with my professors and classmates will be lifelong friendships and if you are even interested in nursing I would strongly suggest attending this wonderful program. Not only is the nursing program great, but also it has a direct admission, which many other programs do not offer. That means I was able to graduate with an RN-BSN in four years. This program is one of a kind and I am lucky to have been a part of it!
Alumni Profile: Sam Rosenbrook 2013 Nursing Program Graduate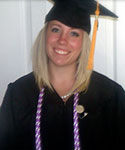 I always dreamt about being a Michigan State Spartan, but when I found out the AQ/Detroit Mercy Nursing Program accepted students as freshmen, I couldn't pass up the opportunity. Being offered acceptance into nursing school right out of high school meant I didn't have to wait two more years to compete for a spot in any other nursing program. After visiting campus, I really fell in love with the environment and surroundings that the Aquinas College campus offers. Campus was beautiful, and just so happened to be located in a big city with lots to do! After my first semester at AQ I realized that the Detroit Mercy at Aquinas nursing program was the right choice for me! With smaller class sizes, it became easy to form trusting relationships with professors. I felt comfortable asking questions and seeking help from the professors themselves. Also, being surrounded by other nursing students from the get-go helped me to find my best friends that would carry me through the next four years, which is important because nobody knows the ups and downs of nursing school like another nursing student. The experiences and relationships I have formed with friends and faculty through the Detroit Mercy/AQ Nursing Program has given me the confidence of being the best nurse I can be and has lead me to obtaining my dream job! I am very happy to say that I am now a registered nurse at Mercy Health Saint Mary's in the Neonatal Intensive Care Unit!