English at Aquinas College
Download the Sampler (pdf)
---
2014 Academy of American Poets Contest for Colleges and Universities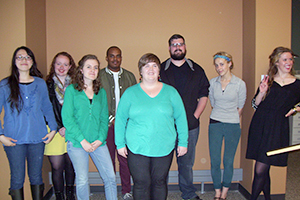 Finalists for American Academy of Poetry Prize: from left to right, Cassandra Anouthay, Darcy Vines, Michelle Plumstead,
Paris Close, Molly Robertson, Ken Logan, Patricia Schlutt, and Becca Ryan. Not pictured: Andrea Galloway and Stephanie Giluk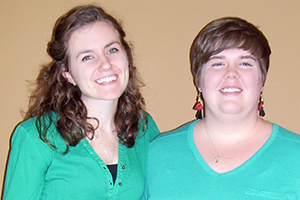 Winners of the Academy of Poetry Prize (left to right): Winner, Michelle Plumstead and Honorable Mention, Molly Robertson
---
Lambda Iota Tao
Officers 2014-2015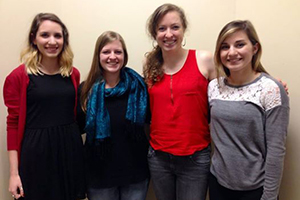 From left to right; Lane Hokanson, Secretary; Elizabeth Nelson, Senate Representative and Treasurer; Rachael Steil, President; and Katy Caballeros, Vice-President

November 2014 Inductees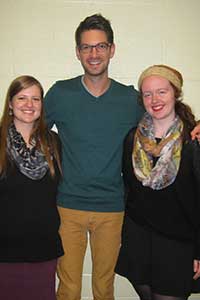 From left to right, Elizabeth Nelson, Ben Stoner, and Darcy Vines
Lambda Iota Tau is the national literary honor society for literature majors and minors. The three Greek letters, L I T, are an acronym for the motto of the society, Logos Idean Telei, "The word gives form to the idea." The Aquinas chapter has been in existence since 1954 and offers members the opportunity to associate with other lovers of literature, to receive the LIT Journal, a membership card, the honor society newsletter and a certificate of membership. To qualify as a member of LIT, English majors or minors must:
Provide evidence of superior scholarship in the study of literature by having attained at least a 3.6 in at least 12 semester credit hours of literature courses and by possessing at least a 3.6 cumulative GPA.
Be in their fifth college semester (junior year).
Present an initiation paper on a literary topic (the paper must be one which has been written for a class and received a grade of A or A-). It may be a study of a single literary work, a focused essay on two or more related works, or original poetry/prose.
Be registered in the office of LIT headquarters. An initiation fee of $30 is charged by the international headquarters which entitles members to the offerings listed above.
The Aquinas chapter of LIT is part of a broader student organization which includes the Aquinas Writers' Guild (AWG). Open mic nights of poetry readings, attending theater productions, bringing in guest authors, and publishing a student literary magazine, SAMPLER, are among this organization's activities.

Club Advisor: Pamela Dail Whiting, dailwpam@aquinas.edu