English at Aquinas College
Shelby Denhof '14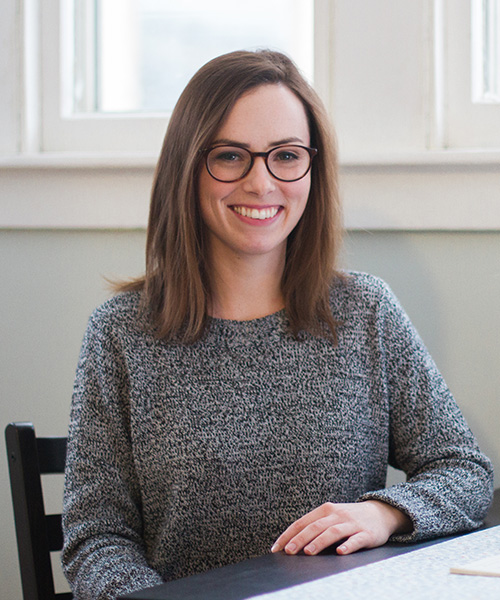 Shelby Denhof has recently been accepted to the John Steinbeck: Social Critic and Ecologist, a National Endowment for the Humanities summer institute for teachers. Held at Stanford University in California this year, participants will explore John Steinbeck in new, creative ways.
Denhof is currently teaching English at Rockford High School. While she was at Aquinas she majored in English and German and received her Secondary Education Certification.
Briana Asmus '05
After a two-year stint in Korea teaching English as a second language, Briana returned home to Kalamazoo for a year before heading off in fall 2007 for a year of teaching in Japan. Briana recently completed her Ph.D. in English Education at Western Michigan University.

Jon Bacarella '06


Jon, his New Zealand wife, son Talor (shown) and daughter Layla live in New Zealand where Jon accepted a job at Pakuranga College in Auckland, teaching English and Business Studies. He is also coaching the under 56k Rugby team and advising the yearbook. The family follows the Detroit Tigers religiously via the Internet.
Laura Bertram '08
Laura Bertram moved to Cleveland, where she is attending Case Western University School of Law.

Brianna Boedeker '10
Brianna is the National Recruiter for Coastal-1 Communications. She also writes a column, A Healthy Face of Diabetes, on everydayhealth.com.

Joe Boomgaard '03


After graduating with a bachelor's degree in English from Aquinas College, Joe earned a master's degree in journalism from Point Park University in Pittsburgh in 2005. There, he contributed research for the Innocence Institute, a university-based program run in conjunction with the Pittsburgh Post-Gazette that investigated claims of wrongful imprisonment. After his graduate program, he was hired as a staff writer at the Ludington Daily News and covered local government, business, state politics and criminal justice issues. At the newspaper, he won two first place awards - for breaking news and public service reporting - from the Associated Press. He was named a fellow of the Knight Center for Environmental Journalism's Great Lakes Environmental Journalism Training Institute in 2007, furthering a lifelong interest and a study he began at Point Park during an independent program. He recently accepted a new business reporter position at MiBiz, a west Michigan business periodical. Joe married Claire Waltman '03 in 2005. They live in Muskegon and enjoy frequent trips north along the Lake Michigan shoreline. An avid angler, Joe enjoys pursuing steelhead in rivers across the Great Lakes.

James Bromley '00
Having completed his Ph.D. in English at Loyola University Chicago, Jim was hired as an assistant professor of English at Miami University of Ohio in 2007.

Ann Burke '08
Ann is working on a master's degree in Composition/Rhetoric at Ball State University in Muncie, Indiana. She has published essays on the National Council of Teachers of English Gallery of Writing site and in the Language Arts Journal of Michigan.

Sarah Carter Conklin, Dec. '01


Since August 2001, Sarah has been a Language Arts teachers at Bridgman High School, in southwest lower Michigan. "Though it was a difficult decision to make, I chose Bridgman because of its small class sizes, supportive community, and respected reputation. Bridgman is on a 90-minute, 8-period block schedule, which means I am teaching six different courses. Most people think I was crazy to take a position as challenging as this one, but so far I have loved each and every day."

I am teaching courses that I am passionate about and that I have a great deal of freedom with: Effective Writing, Humanities, Vocabulary-Spelling-Grammar (VSG), Alternative Education English, and freshman English. I am also
teaching a "study skills/conflict management/welcome to high school" course for freshmen which provides a nice break in my intense preparation. I have found my work with the students in A.S.P.I.R.E. (Bridgman's alternative education program) to be highly rewarding.

My experiences in the English and education courses at Aquinas, as well as the core of my liberal arts education, have served me well in my first few weeks here at Bridgman. I see my teaching career here as a Bridgman Bee to be one of great longevity. Coaching is an option, as I am an alum of the Aquinas cross country and track programs, and I have already been offered the women's head track coach position for the spring. I share "Ireland" stories with my students on a daily basis and look forward to returning to the Emerald Isle over Christmas break. I hope to begin a "Sampler-like" publication with my Effective Writing class and have used my contact with the Humanities and English faculty at Aquinas as a tool in creating a liberal arts atmosphere in my own classes.

Sarah and her husband, Matthew, have a daughter named Caroline.

Katie Carty '10
Katie is at the University at Buffalo SUNY working on a master's degree in Comparative Literature with a focus on Latino Studies. She is also working to supply books to impoverished children in El Salvador.

Angela Critchett '04
Angela earned her teaching certificate and is working on a Master's in Education at Aquinas. She plans to teach English at the middle school level.

Stacey Dearing '09
Stacey earned a master's degree at Auburn University. In the fall of 2013 she will begin work on a Ph.D. in English.

Kate Dernocouer '06


While working on an MFA in writing at Western Michigan University, Kate was inducted into Phi Kappa Phi, an honors society for graduate students in the upper ten percent of their class. She finished her degree in 2010. In addition, Kate has published her work in journals such as Fourth Genre, Airplane Reading, Apropos, Whistling Fire, and South Loop Review.


Caitlin Dillon '98
I recently completed my doctorate in Linguistics at the University of Indiana after completing an MA in Linguistics at Cambridge University in England. I am now working in a post-doctoral position at Yale University, working with hearing impaired children who have had cochlear implants. While at Indiana University, I taught a variety of courses, including English as a Second Language and a basic linguistics course called Introduction to Language. I have also been a teaching assistant for a course called "Indiana Dialects and Language Variation," a sociolinguistics class about the history and development of dialects of American English, with a focus on dialect variation in Indiana.
The English program at Aquinas served and continues to serve me well. Aquinas truly was a great place for me and the English Department provided me with an excellent education.

Elizabeth Dudek '01
I am currently living in the Chicago area and working at CCH (Commerce Clearing House, Inc.) located in Riverwoods, Ill. I am one of four Production Specialists for the Estate and Gift Tax Department, a group that focuses on such things as estates, wills, and financial planning. CCH, a subsidiary of the Dutch publisher Wolters-Kluwer, puts out material geared towards such individuals as accountants and lawyers. My job revolves around copy, editing and proofing various products the group puts out, mainly aiding in the monthly production of New York Estates, Wills, and Trusts , information about New York probate law. I enjoy my position at CCH very much, and the more I work there the more I realize that I really and truly want to stay in publishing. I am reading and writing whenever I can, with hopes of eventually getting published and possibly doing some free-lance work. A crowning moment for me recently was entering the city-wide Gwendolyn Brooks Open Mic Awards. I submitted my poem "Hips" on a whim, and as luck would have it, the poem made it to the top 25. I performed the piece along with 24 other hopefuls in front of a live audience. Chicago is a great, vital city full of diverse people and opportunities to be creative. I am glad I ended up here. Without my education at AQ and the wonderful English professors who gave me both guidance and friendship, I don't think I'd be here.

Will Eberle '10
Will is Deputy Press Secretary for Senator Debbie Stabenow (D-MI) in Washington, D.C.

Andrea Grant '12
Andrea has decided to become an archaeologist. She has participated in two expeditions to unearth Etruscan artifacts in Italy.

Katie Yenglin Greer '03
In 2005 Katie earned her M.A. in Art History at the University of Notre Dame and in 2007 she completed her M.S.L.I.S. degree from Drexel University. Currently she is an Information Literacy and Instructional Technology Librarian at Oakland University in Rochester, Mich. Katie and her husband, Scott, have a son named Caleb.

Alyssha Hayden Munt '02
Alyssha earned a master's degree in Human Development and Leadership at Murray State University in Kentucky. Currently she works as the Academic Services Coordinator at Kansas State University (Salinas Campus). Alyssha is also pursuing an Ed.D. in Educational Leadership from Northeastern University. She and her spouse, Ross, welcomed their first child, Hayden, in February 2012.

Jeffrey Hole '95
Having completed his PhD in English at the University of Pittsburgh in 2007, Jeff worked as a visiting assistant professor at the University of Minnesota, Duluth, for two years. Now he is an assistant professor at the University of the Pacific in Stockton, California.

Patrick Hurley '04
Patrick studied writing at Aquinas and spent a semester interning with the Great Books Foundation in Chicago as part of the Chicago semester. After graduation, he was hired by the Foundation and currently serves as a senior editor. He has had several of his short stories published recently.

Shawn Jacobs '05
Shawn, known professionally in his earlier career as "The Amazing Egghead," now teaches English at Zeeland High School (Zeeland, Michigan) where he also is advisor for the newspaper and yearbook. He regularly uses "Romeo and Drooliet," a dog and cat version of "Romeo and Juliet," to get his freshman students into Shakespeare.

Katie Jensen '04
After graduating from Aquinas, Katie moved to Pittsburgh to earn her M.A. in Literary and Cultural Studies from Carnegie Mellon University. Currently she lives in Busan, South Korea, where she teaches English Conversation to students at Dong-Eui University.

Brian Keilen '07
Brian earned a master's degree in Popular Culture at Bowling Green State University in Bowling Green, Ohio. Now he is enrolled in a Ph.D. program at the University of Wisconsin-Milwaukee. His focus is Media, Cinema, and Digital Studies.

Rachel Koval '09
Rachel earned a master's degree in English at Boston College. She is a Teach for America 2011 Corps Member working with pre-kindergarten students in Heronville Elementary School in Oklahoma City, Oklahoma.

Rickie-Ann Legleitner '06



Rickie-Ann earned a master's degree in English at DePaul University in Chicago and currently is working on a Ph.D. in English at the University of South Dakota.

Tracey Lindsley '06
Tracey is teaching English on an Indian reservation in Michigan's Upper Peninsula.

Kara Madden '10
Kara is an apprentice with Verb Ballets in Cleveland. She rehearses and performs full-time with the company.

Chris Manning '99
After graduating from Aquinas, Chris moved to Los Angeles to earn a Master of Professional Writing degree at the University of Southern California. Currently Chris works at Lansing Community College, where he is an assistant professor of Developmental Writing.

Jennifer Marquardt '05


Jennifer completed a Ph.D. in Writing at the University of Southern Mississippi. She teaches English at Kean University-Wenzhou in Wenzhou, People's Republic of China.

Jeffrey McCrystal '98
Jeffrey lives in Arizona, where he and his spouse, Wendy, run a business that sells, repairs, and appraises Modernist North American and European home furnishings, fine art, and ephemera. He also facilitates creative writing workshops for a not-for-profit behavioral health agency.

Zarah Moeggenberg, Dec. '09
Zarah will begin work on her M.F.A. in writing at Northern Michigan University in the fall of 2011. The University awarded her a full-ride assistantship.

Daniele Reisbig '10
Daniele participated in an AmeriCorps Vista program to reduce poverty in Billings, Montana. Currently she is at Michigan State University, where she is earning a Master of Social Work degree with a concentration in Organizational and Community Practice.

Cheyna Roczkowski '10


Cheyna plans to join the FBI. In the meantime, she is attending the Michigan State University College of Law in East Lansing, Mich, to earn a Juris Doctorate degree. The MSU College of Law granted her an Academic Excellence Scholarship, which covers 75% of her tuition.

Meadow Rose Snyder '99
Meadow Rose lives in Saline, Michigan, and works with autistic children privately and in the public schools.

Scott D. Southard '96
Upon graduating from Aquinas College, Scott went on to study at the graduate level at both Michigan State University and the University of Southern California (where he received his MPW in Professional Writing). He has written three award-winning novels, all of which are published (My Problem With Doors, Megan, and 3 Days In Rome), and a 10-episode radio comedy series that was played on many radio stations across this country (The Dante Experience). Currently, while continuing to create his own fiction, Scott works as a professional editor for a research company and also occasionally teaches.

Luke Sprunger '10
Luke is enrolled in the master's program in History at Portland State University in Portland, Oregon. He was awarded an Editorial Fellowship with the Pacific Historical Review.

John Taylor '09
John is currently enrolled in the Michigan State University College of Law in East Lansing, Mich.

Kelsey Tithof '10
Kelsey works as a Customer Service Specialist for TechSmith Corporation in Okemos, Mich.

Dan Treul '09
Dan is the Communications Coordinator for Local First in Grand Rapids, and he runs his own public relations company, Creative Incite. In addition, Dan is currently working on a master's degree in Communication at Grand Valley State University.

Jessica Venlet '10
Jessica is working on a Master of Science in Information degree at the University of Michigan. She's specializing in Library and Information Services.

Monica Walen '08
Monica is earning a Master of Library and Information Science degree online through Wayne State University in Detroit. She is specializing in Youth Services.

Jen Sikora Wright '04
In the fall of 2011 Jen will begin work on a master's degree in Technical Communication at the University of Central Florida.

Heather Young '99



Since my 1999 graduation from Aquinas College, I have been working as a writer and project manager for a strategic marketing and communications firm called Williams Group. I help organizations strengthen the work they do by using a consistent "voice" and carefully selected messages. This amounts to the creation of presentations, brochures, web sites, advertisements and other marketing tools.

I feel good about the work because much of it is for nonprofit clients such as the Council of Michigan Foundations, Community Foundations of America, Council on Foundations, the W.K. Kellogg Foundation, the Kalamazoo Community Foundation, Frederik Meijer Gardens and Public Education Network. I have also helped build communications for corporate clients including Steelcase Inc., DuPont Canada, Lucent Technologies and Wyeth-Ayerst Pharmaceuticals.

While at Aquinas, I studied English and Spanish and put a lot of energy into writing for and editing The Aquinas Times. While my curricular and extracurricular writing provided me a specialty here at Williams Group, I find that the most valuable aspect of my Aquinas College experience was an exposure to many disciplines - a credit to the liberal arts degree. In meetings with clients and partners of my organization alike, an ability to think creatively and strategically has proven to be my advantage. Thanks in part to Aquinas, I'm not just a wordsmith, I'm a thinker.

Debra Mary Zoppa '00
During my last two semesters at Aquinas I began to contemplate what I would do upon graduation in spring of 2000. While finishing my coursework, I started to explore different careers thinking about my expectations, my interests, time, money, and how to use what I was learning in my English and psychology classes at Aquinas. I felt I had very strong literature and language communication skills that could be utilized in a variety of ways. I eventually decided to combine my love of learning with helping others learn. While finishing my bachelor's degree, I started taking classes as a guest student in the Masters in Education program at Aquinas. I will complete a master's degree in August 2002.
Since earning my Michigan Teaching Certificate in May, 2001, I have been teaching seventh and eighth grade Language Arts at St. Thomas the Apostle School. I find teaching to be challenging and rewarding on many different levels. I feel secure that the English classes I took at Aquinas prepared me well for teaching. Each day presents itself with amazing opportunities and expectations, and I enjoy the chance to share my love of literature and poetry with energetic students. I like preparing creative lesson plans based on my knowledge, using writing, grammar, and literature as a basis for future learning. The classes I took at Aquinas have given me a unique outlook towards teaching and filled me with a desire to continue my education. I seriously doubt if I would have chosen teaching as a career if not for the excellence demanded at Aquinas both academically and personally. Aquinas English classes provided an exceptional place for me, as an adult student, to learn and thrive with confidence.