Alumni at Aquinas College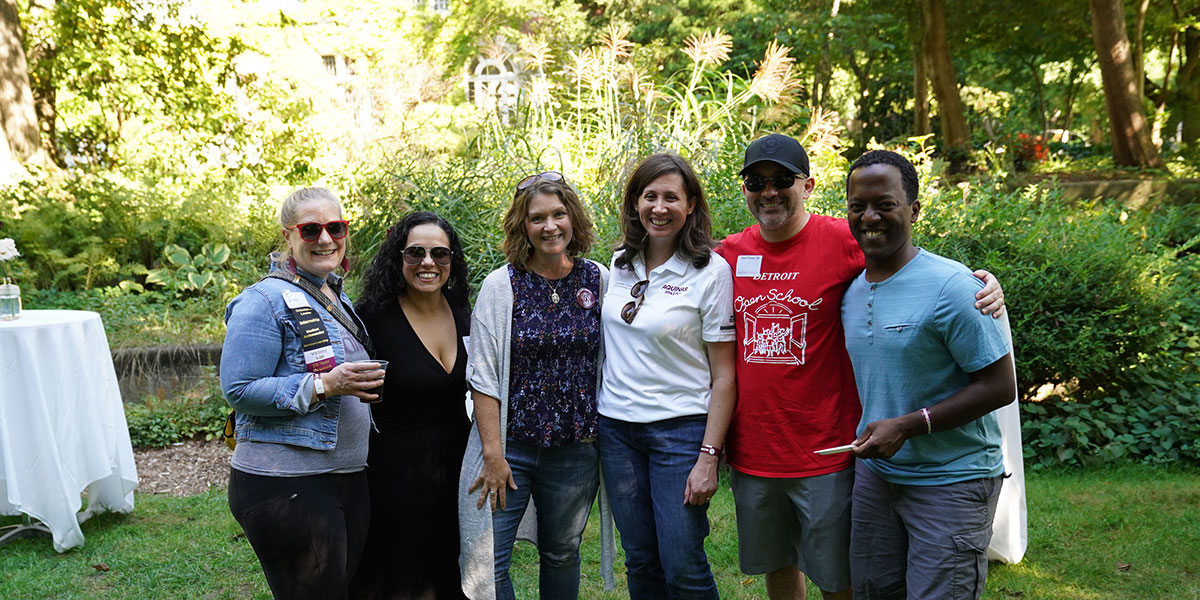 Welcome, Aquinas College Alumni!
Our Alumni Relations team will help you find everything there is to connect you back to this place you once called home. Stay connected, share your latest news , and explore engagement opportunities.
We're glad you're here!
---
Our job is to keep the 25,000+ AQ alumni connected to each other and the college through events, stories, career and personal development and other fun traditions.
Whether you graduated this past May or decades ago, let's stay in touch!
See answers to frequently asked questions below. Can't find the information you need? Contact our Alumni Relations team at alumni@aquinas.edu or call 616-632-2822.
---
Update on Alumni Email (April 2023)
Aquinas College and the Aquinas Alumni Association provide multiple alumni benefits, one of which will soon be changing.
Beginning on July 31, 2023, access to Aquinas email and other IT systems will be limited to current faculty, staff and students. After July 31, alumni and former students will no longer have access to their Aquinas email account and will need to make other arrangements for email services. Going forward, AQ email accounts will close approximately one semester after a student graduates or leaves Aquinas college. Please read this article for full details on the change.
If you have forgotten your Aquinas email login information, you have a couple options. You can attempt a password reset here. Or, you can call Information Technology Services (ITS) at (616) 632-2050 with your full name, Aquinas email address (if known), and student ID number and they will walk you through the process of resetting your password. If you do not know your email address, ITS will be able to look it up for you. If you do not know or have access to your student ID number, please contact the registrar's office at (616) 632-2871 before contacting ITS.
---
FAQ
Who is a member of the Alumni Association?
If you earned a degree from Aquinas College, or completed a minimum of 30 credits, you are a member for life. There are no dues to pay. The only thing you need to do is keep your contact information current.
How can I get in touch with another Aquinas alumna/us?
Call Alumni Relations at 616-632-2822. We will not release contact information, but we will forward messages to the person in care of the Association.
How do I obtain my transcripts?
Complete information regarding transcript requests, including online ordering of official transcripts, is available here. Please contact the Registrar's Office with questions: registrar@aquinas.edu or 616-632-2871.
How do I let Aquinas know my name, contact information or job has changed?
Update your information by filling out this form.
May I use the Aquinas fitness center?
Yes. Cost is $100/term or $200/year. To apply, fill out this form and mail to:
Aquinas College Sturrus Sport and Fitness Center
ATTN: Logen Wies
1700 Fulton St E
Grand Rapids, Mi 49506
Can I order AQ merchandise online?
To order Aquinas College merchandise online, click here.
I am in a job transition, can I still get career support?
The Aquinas College Advantage Center assists alumni with their pursuit of life and career planning skills that will allow them to have a career filled with passion and balance.
I'm interested in hosting an event at Aquinas. Is there a discount for alumni?
Yes, As an alumnus/alumna, you are eligible to receive a 20% discount on room rentals for events, weddings and/or meetings. Learn more.
---
Benefit
Aquinas College Alumni receive a special insurance discount from Olivier VanDyk Insurance. Please call one of their experienced Account Managers at 616-454-0800 and mention you are an alum of Aquinas College or email web-personalquote@ovdinsurance.com.
---