Distinguished Service Award
2023 Recipient
Ralph Dallier '81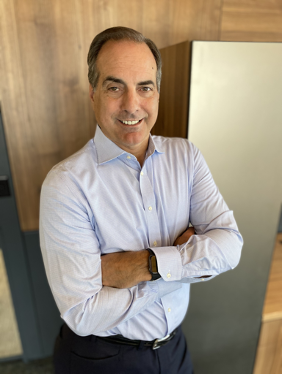 Ralph Dallier is President and owner of Franklin Integrated Interiors, a Pittsburgh-based commercial furniture, flooring, and interior construction dealership. Under Ralph's leadership, Franklin has grown exponentially and is the trusted partner for creating inspiring destinations that empower people to work, learn and heal.
Ralph is an Aquinas College graduate with a BSBA in Business Administration and Economics and has been a lifelong supporter of the school and its athletic programs. Ralph is passionate about giving back to the community and is active in several community organizations and youth programs. However, his greatest accomplishment is his 35-year marriage to his wife Toni and their three children - Anthony, Jackie and Sammie.
---
Eligibility
Individuals or partner corporations/organizations of the College shall be eligible for the award.
Time, effort, and monetary gifts on behalf of Aquinas College shall constitute the criteria in considering a candidate for the award. The award may recognize one, two, or three of these elements.
The Outstanding Alumnus/Alumna award shall be presented at the Awards Gala during Homecoming Weekend.
---
Past Recipients
Ray Bauer '64
1971 Honoree
Philip Kernicki '65
1971 Honoree
Lyle Morrision '52
1971 Honoree
Sister Aquin Gallagher, O.P.
1972 Honoree
Sister Mary Gonzago Udell, O.P. †
1973 Honoree
C. Arthur Woodhouse
1974 Honoree
Peter Wege
1975 Honoree
Raymond Knape
1976 Honoree
Sister M. Aquinas Weber, O.P. '58
1977 Honoree
Hugh Allen
1978 Honoree
Neil Colings
1979 Honoree
Carol Duba Holm '61
1979 Honoree
Don Freeman
1980 Honoree
Ken Marin '47
Mildred Jablonski Martin '47
1981 Honorees
The Dominican Sisters ~ Grand Rapids
1982 Honorees
Sister Anne Keating, O.P. '57
1983 Honoree
Jane Hibbard Idema
1984 Honoree
Richard Gillett
1985 Honoree
Monsignor Arthur Bukowski
1986 Honoree
Ella Sims '87
1987 Honoree
Harold Davidson
1988 Honoree
Rosemary Murphy
1989 Honoree
The Raaymakers Family
1990 Honoree
John Cummiskey
1991 Honoree
George McAleenan
1991 Honoree
Fred Clancy '40 †
1992 Honoree
Paul Pearson
1992 Honoree
John Veneklasen
1994 Honoree
John Jackoboice
1995 Honoree
Marge Byington
1996 Honoree
Marty Allen
1997 Honoree
Edward "Ned" Smtih, Sr. '61
1998 Honoree
Edward Twohey
1999 Honoree
The Reverend Jim Cusack
2000 Honoree
David Weinandy, Ph.D.
2001 Honoree
Nancy (Murphy) Erhandt
2002 Honoree
John Wheeler
2004 Honoree
Estelila "Stella" Ferris '88 †
2005 Honoree
Mike Lown '86
Kathleen (Hieshetter '87) Lown
2006 Honorees
Lee E. Jacokes, Ph.D. '61
2007 Honoree
José Narezo '75
2008 Honoree
Father Mark Pryzbysz '83
2009 Honoree
Robert Boguslaski, Ph.D. '62
2010 Honoree
Thomas Zwier, Ph.D. '76
2010 Honoree
Patrick A. Miles, Sr. M.M. '95
2011 Honoree
Robert J. White '71
2017 Honoree
Paula T. Meehan
Spirt of Aquinas Award
2017 Honoree
Karen Palmore '89
2018 Honoree
Thomas Czerney '74
2019 Honoree
Dr. Nkechy Ekere Ezeh
2021 Honoree
Sister Mary Ann Barrett, O.P. '66
2022 Honoree