We celebrate alumni who have made significant achievements and contributions to their profession and/or community at the annual Welcome Home Reception and Awards Celebration.
2023 Recipient
Amy Marshall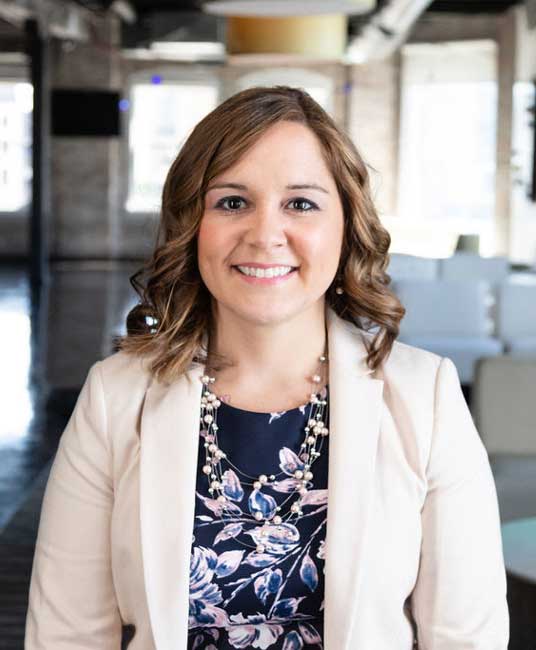 Amy Marshall is the co-owner of Management Business Solutions, an award-winning executive recruiting firm in Grand Rapids, MI. Amy brings 15 years of experience in staffing and recruiting, focusing on building diversity recruitment initiatives, and implementing workforce pipeline development plans. Amy is passionate about helping her clients reimagine their hiring funnel to build stronger recruitment/sourcing strategies, create employee retention plans, and identify employment branding opportunities while maximizing the candidate experience.
After completing her bachelor's degree in psychology / human resources management from Aquinas College, Amy began her career working at MBS during the 2008 economic downturn. Amy enjoys being highly involved in the Wyoming/Grand Rapids community. Amy volunteers with many local organizations, including Our Community's Children, by creating workshops for resume writing, cover letter writing, and mock interviews to help develop youth for employment opportunities.
---
Eligibility
Only alumni of the College shall be eligible for the award. Recipients should have graduated 10 or more years prior to receiving the award.
Recipients should display genuine leadership, dedication and service to others; they should exemplify the qualities of a Catholic, liberal arts education. Well-roundedness in aspects of career, family and community service are also considered.
The selection committee looks for outstanding achievement in at least two of the three areas:
1. Excellence in academic/professional achievements;
2. Contribution to community/humanity;
3. Service to Aquinas College.
The Outstanding Alumnus/Alumna award shall be presented at the Awards Gala during Homecoming Weekend.
---
Past Recipients
Lyle Morrison '52
1970 Honoree
Michael Deeb '57
1971 Honoree
Jerome Byrne '48
1972 Honoree
Sister Majorie Vangsness, O.P. '38
1973 Honoree
Edward "Ned" Smith, Sr. '61
1974 Honoree
Ricahrd Sedlecky '51
1975 Honoree
Marcia Miller Clapp '46
1976 Honoree
Robert Muller '74
1978 Honoree
Lois Case '50
1979 Honoree
Dr. John Stepanvich '53
1980 Honoree
Jack Fortner '59
1981 Honoree
Jacob Robinson '57
1982 Honoree
Cheri Mann Seamon '66
1983 Honoree
James Zawacki '65
1984 Honoree
Jackie Deeb, Ph.D. '57
1985 Honoree
Mike Cuncannan '61
1986 Honoree
Gerald Burns '67
1987 Honoree
Sister Agnes Thiel, O.P. '61
1988 Honoree
Carol Duba Holm '61
1989 Honoree
James McKay '82
1990 Honoree
Patrick Quinn '58
1991 Honoree
Dr. Vernon Ambrustmacher '60
1992 Honoree
Debra Bailey '83
1993 Honoree
Timothy McGuire '71
1993 Honoree
Ken Neyer '67
1994 Honoree
Patti (Blaesser) Tibaldi '73
1995 Honoree
Honorable Dennis Leiber '69
1996 Honoree
Joseph Hansknecht '50
Mary Beth Hansknecht '50 †
1997 Honoree
Sister Rosemary O'Donnell, O.P. '61
1997 Honoree
Ruth Rasmus Eberhard '36
1998 Honoree
Greg Alksnis '71
1999 Honoree
Linda Nemec Foster '72
Tony Foster, M.D. '73
2000 Honoree
Timothy McGuire '71
2001 Honoree
Patricia (Bissonette) Dignan, Ed.D. '63
2002 Honoree
Mary T. Meistas, M.D. '71 †
2002 Honoree
Percy L. Brown '87
2003 Honoree
Rosemary (Hickey) Zant '58
2004 Honoree
Juan Olivarez '71, Ph.D.
2005 Honoree
Bridgadier General Jim Bruson '71
2006 Honoree
Paul Winchester '75
2007 Honoree
Ed Wagner '61
2008 Honoree
James L. Farris '96
2009 Honoree
Jack '60 and Rita (Hasse '60) Kirkwood
2010 Honorees
Monique Salinas Stauffer '78, Ph.D.
2011 Honoree
Bonnie Wesorick '77
2012 Honoree
Alfred H. Liu. AIA, NCARB '65
Lisa H. Mitchell '78
2013 Honorees
Brad D. Smith, M.M. '91
2014 Honoree
Jacqueline D. Taylor '80, Ph.D.
2014 Honoree
Robert C. Payne '67, D.D.S.
2015 Honoree
Christina M. Bivins '95+
2015 Honoree
N. Patrick Hennessey '71, M.D.
Ralph E. Mathis '60, M.D. and Yvonne L. Mathis '79+
2016 Honorees
Louis '31 and Florence Hogan Burns
2017 Honorees
The Burns Family
Bill '63, Larry '63, Don '64, Joe '66, Gerry '67, Matt '68, Mary Lou '70, Julianne '71, John, Rosalyn '74, Luann '77
2018 Honorees
Matt Coty '89
2019 Honoree
Dennis Echelbarger '64
2019 Honoree
Joellyn Cicciarelli '87
2021 Honoree
Jeanette Pierce '03
2022 Honoree